Did you hear about….? Urban Legends
by Julianne Ogden
Photographer
Has there ever been a kid who wasn't told that if they ate a watermelon seed, a plant would grow in their stomach? Urban legends are stories that are shared person to person by people swearing they are true. Snopes.com is the premiere site for separating fact from fiction. Here, a look at a few common legends from the people at Snopes.
Fishermen caught a live deer in the Chesapeake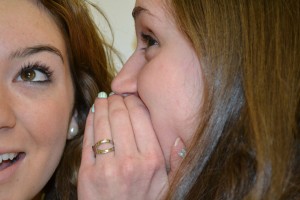 Fishermen have been known to pull odd things out of the water. In 2007, two fishermen, Chad Campbell and Bo Warren, pulled a live whitetail deer from water 80 feet deep a mile and a half from the shores of Bloody Point. The two men brought the deer to the closest beach, Kent Point, and set it free.
True
Coca-Cola used to contain cocaine
Coke received its name from the small trace of cocaine originally included in its syrup. In the early 20th Century, the U.S. government banned cocaine from products. Owner Asa Candler did not want to change his special ingredient because he wanted to protect the Coca-Cola name. The first time Coke was cocaine-free was in 1929, 35 years after it was invented.
True
AIDS pin prick
Up and down the east coast people have been placing HIV infected needles under gas pumps and in movie theater seats. When the victim reaches for the gas pump or sits down in a seat, they are pricked with a needle and are infected with HIV.  Similarly, in Baltimore a woman was at a gas station and was confronted by a man who asked her for money. She replied that she only had a dollar. He thanked her and then jabbed a needle in her arm.
False: Starting in the 1990s, this rumor surfaced with the fear of AIDS and HIV. In the specific incident in Baltimore, the man was found and held in jail for three years. The woman was never found to be HIV positive.
McDonald's uses mechanically separated chicken
A picture surfaced on the Internet in 2010 that showed the process of mechanically separating chicken. This disturbing picture showed the ground up chicken (bones, meat, eyeballs, etc). The claim is that McDonald's uses this mash-up of meat in their Chicken McNuggets and patties.
False: The chicken at McDonald's is made of all white meat chicken, reported by the U.S. Department of Agriculture.
Gang activity in Maryland
A gang in the DC/Baltimore area is murdering people by pretending to be hitchhikers and stealing cars on I-68 and I-70. After they have stolen the car, they either drive with their high beams on or without any headlights on at all at night. When a person flashes their high beams at them in a friendly way to remind them to either turn their lights on or their high beams off, the gang member then follow that person to their destination and murder them.
False: This rumor has circulated for decades. Allegedly, it blew up when an email regarding the legend was sent by the Allegany County Department of Public Safety and Homeland Security signed by an official warning people traveling on the I-68 and I-70 highways. The official denied this and the email was declared invalid.
Mystery Meat
People have always been skeptical of cafeteria and fast food meat. There have been claims that restaurants including Taco Bell use Grade D meat, equivalent to that used in dog food. This beef is

supposedly the lowest grade you can consume.
False: Meat is categorized by the USDA. There is no such thing as Grade D meat. The categories are Prime, Choice, Select, Standard, Commercial, Utility, Cutter, and Canner. Taco Bell uses no meat below Select grade.
Texting while driving
by Seth Grimwood and Naomi Underwood
As Vice Principal Mr. Lawrence Butler drives down the road, the car in front of him swerves across the lanes. He slows down to avoid an accident, but soon the swerving car pulls over. He looks into the vehicle and sees that the driver is texting. "It's not a good thing," said Butler, "although very tempting." Texting while driving is a huge distraction that can affect your safety. Still, the danger is often underestimated by teens.
In Maryland, the Traffic Safety Act went into effect in October 2009 prohibiting the use of any handheld mobile devices behind the wheel. A Patriot Press Survey showed that 43% of Northern students admit to texting while driving at some point in their driving career, and 60% of students have seen someone else texting while driving on the road.
"As a teacher, the biggest impact I've had is having students die from texting and driving," said teacher Ms. Sarah Duckett, who didn't want to elaborate on the students involved. Just dialing a cell phone while driving can increase the risk of a crash by as much as 23 times according to a 2012 study by Allstate Insurance. "It's completely not worth the risk. No text is worth risking your life over," said Duckett.
In Drivers Education, students are made aware of the repercussions that texting behind the wheel might have. "I'm not going to text because I'm too young to die," said junior Adam Swann, "and I really don't want to end up messing my car up over something stupid." Sadly, many students will still open that incoming text while they are driving. "Whenever I'm riding with someone older than I am and they start to text while they're driving me, I always feel really nervous and uncomfortable," said freshman Peyton Fleming. "I know I won't text and drive, not only because I don't want to risk my life, but I don't want to take anyone else's either."
While Swann and Fleming are against using their phones behind the wheel, they are not the majority.  "If it's an important person I'm texting, I'll do it. I trust my driving skills enough to know I'll be safe," said senior Bryce Kersey who has had his license for two months. Senior Kendra Kropkowski, a two year driver, also admits to texting while driving, "I'm really confident with my driving, so I text just as much as I do when I'm not driving." Although students may not want to admit it, texting while driving is a common practice.  The dangers are not to be taken lightly, however, even if you think you have good driving skills.
Using cell phones while driving is very tempting, but you have to consider the risk. Endangering yourself and others is a big price to pay for a single text message or phone call.
Duty bound for college
by Hannah Emerson and Seth Grimwood
Senior Brant Leadbeter walks into his house after a long day of wrestling practice. He puts his stuff down and looks at pictures of his two older brothers, Collin and Quentin in their naval uniforms. He
realizes that he will soon be following in the footsteps of both his older brothers. "It's pretty awesome, all three of us will be going to Navy to wrestle," he said. "I am going to the NAPS (Naval Academy Preparatory School) next year, and then I will be going to the Naval Academy after that." He is one of a handful of Northern students and alumni for whom a military service academy is the path to their future.
NAPS is the Navy's fourth oldest school aside from the Naval Academy, the Naval War College, and the Naval Post Graduate School. The priority at NAPS  is to help in the development of students looking to go on to the service academy. NAPS also offers a varsity athletic program that competes with other preparatory schools, junior colleges and college junior varsity teams. "I'll be wrestling at NAPS for one year and then after that I'll be with my brothers at Navy. It's cool because I wrestled with Quentin in high school and now I'll get to do the same thing in college," said Leadbeter.
Other students, like senior Tim Addison, are going to the Naval Academy in Annapolis right away. "I am going to Navy because it's a really great school and its free," he said. The Naval Academy blends professional subjects with elective courses, just like those offered at basic colleges. "I want to go major in physics or chemistry. For my five years of service I want to be a nuclear power engineer," said Addison.
Northern alumni Scott Agnolutto and John Rowan wanted more than the typical college experience. They wanted to go somewhere that would challenge them not only mentally but physically every day, "A lot of what inspired me to apply to the United States Air Force Academy (USAFA) was my grandfather who was enlisted in the Air Force for 20 years. He always told me that it was the best years of his life and I wanted to experience something like that in my life," said Agnolutto. Rowan's reasoning was similar. "I am the fifth consecutive military generation so I've always wanted to be in the military, and since my Dad is in the Air Force I've kind of grown up around it and knew it was a good fit for me. I applied for the Academy because it's the best commissioning source," said Rowan.
The United States Air Force Academy offers 32 majors and two minors at no financial cost otherthan a commitment to serve after graduation. Engineering is a popular major at the academy.  "My major is Systems Engineering: Operations Research," said Agnolutto. Rowan is also pursuing an engineering major. "I just declared Civil Engineering with a German minor," he said.
The USAFA a medium sized school with about 4,120 undergraduates, 1,200 of whom are freshmen. "My favorite part about being here is probably the fact that I am surrounded by people who are oriented in the same way I am. The days can be really long here and having others that are going through the same thing you are really helps you keep a positive attitude. You're never alone," said Agnolutto. The Academy is located just north of Colorado Springs, about 60 miles outside of Denver, Colorado.
The Academy is a part of the NCAA for athletics and offers a wide variety of intramural sports. The Air Force Academy, like the other military academies offers opportunities that are unlike those at other public colleges. "I get to jump out of an airplane solo five times this summer," said Rowan. "I got my Pilot's License, and I can do free exchanges for a semester to either another country or another service academy. I also get to do what's called OPS Air Force where you go to an Air Force Base for three weeks and work in a certain career field to see what it's like." Students are given the resources to do things that most people never get the chance to do. "One of the greatest perks to USAFA is the fact we have our own airfield. Last summer, I spent three weeks doing a free-fall jump program. USAFA is the only place in the country that you do your first jump solo. It is one of the coolest things I've ever done. This summer, I am deploying to Qatar (a small country south of Iran in the Persian Gulf)," said Agnolutto.
After graduating from the USAFA, eight years of service is required, five of which must be served on active duty while the remaining three years may be served in the inactive reserve. "Upon graduation, I plan on doing what I need to do to become a fighter pilot," said Rowan. "I want to go straight to UPT (Undergraduate Pilot Training) for a year or so and from there go to SUPTH (Specialized Undergraduate Pilot Training Helicopters) for another year or so and finally get my specific aircraft assigned to me sometime after. Ultimately I want to end up in the special ops field," said Agnolutto. The Air Force Academy is a prestigious place to get a free education while gaining countless skills.
Job market in decline
by Claire Gautrois
Entertainment Editor
The overall unemployment rate for Americans was 7.7% in February, a decrease from 7.9% in January. While things are improving for adults, unemployment for teenagers has increased (U.S. Bureau
of Labor). Unemployment among teens rose from 23.4% and in January to 25.1% in February.
Many Northern High students have jobs, but others are struggling to find work. Senior April Chen, wants a job but finds it tough. Chen said, "It's hard to get a job if you don't have a car. And I don't have any money to buy a car because I don't have a job." To get hired at many places you need to have connections to people who already work there. That's how junior Cara Abell got her first job, "It's good to have connetions because you know them but it doesn't necessarily mean you'll get the job." Most of the jobs available to teens are already filled. When a spot opens up, students rush to apply. It's hard to stand out from other students with little or no work experience.
It's not only a struggle for teens but for people of all ages. It is new guidance secretary Ms. Penny Martin's first year working here Before she got this job she struggled. "It is really difficult to find a job. I went to college, and I have a bachelor's degree. But I spent two years searching."
Although the job market is in bad shape, Martin said, "It's easier to get jobs today because there's more development and more stores, which means there are more opportunities." Even though there are over 200 businesses in Northern Calvert County, guidance counselor Mr. Richard Wolcott believes it's still a struggle for teens to find work. "It's harder to get a job today. Twenty years ago the economy and the market were in better shape and there were more opportunities."
The key to getting a job is standing out from the pack. Going into an interview, use proper language rather than slang. "You need to present yourself professionally," said Wolcott. Try not to stutter, or say "like" or "um" too often. Answering questions, take some time to think before you speak. One of the things that might set you apart from other applicants is if you dress up for the interview. The employer will see that you cared enough about the job to dress nicely.
When you fill out your application, be honest. Although there may be some things about yourself that you would like to change, no one will hire a person they find out has been dishonest (which is also grounds for being fired). List even the smallest details that you don't think are important. Although listing "Perfect Attendance" under the "Awards" section may seem trifling, but an employer can see you as a hard worker.  "As long as you're on time, organized, ready, have a positive attitude, and smile a lot you should be able to get a job and maintain it. " said Abell.
You want to impress your possible future employer with your skills and knowledge. If you correctly complete the interview and the application, then you could be on your way to getting a job. Remember if you're hired, work hard because there will always be another Northern High student ready to take your place.
School Trips
Sophomore Michaela Kite visited the National Gallery of Art in D.C. with Ms. Laura Rozengata's Advanced Photography students on March 20. "We went to check out an exposition on photography throughout history and how photographers have manipulated photos through the ages," said Kite. "We saw some famous photos and some I'd never seen before and it was cool." Students were able to view photographs and participate in hand-on workshops at the museum. "It was cool to see some famous art. We were able to do our own little workshop and that was my favorite part. I was also really cool to see all the pretty fountains," said sophomore Cortney Cameron.
-Emily Bennett
Over spring break, Mr. Joshua Schneider, along with 14 students, toured Italy with EF tours. Senior Julianne Joseph and sophomore Holly Van Wie were among the students who took the eight-hour flight overseas. "I toured a lot, ate some really good food, and bought souvenirs. These guys chased our bus after our tour to the leaning tower of Pisa," said Van Wie. The nine-day trip allowed the students to visit numerous tourist attractions.  "On the first day we arrived, we went to two little towns called Como and Verona. The next day, we went to Venice and after that we traveled to Florence and stayed there for two days." said Joseph.  The students toured Assisi and Basilica along with Rome. " [We] went into Vatican City and saw the Colosseum and then went all through Rome. After the three days in Rome, we flew to Paris and had a two hour layover and came home," concluded Joseph. Experiencing new cultures, visiting attractions, and eating delicious Italian foods, it was a trip these students will never forget.
-Jordan Clark and Emily Bennett
Fourteen journalism students and two staff members, Mr. Gary Clites and Mrs. Adrienne Forgette, traveled to New York City on Tuesday, March 19 to attend Columbia University's 89th Annual Scholastic Press Association Convention. The students departed from Northern at 3:15 p.m. to head to the bus station.  After a four-hour bus ride, students arrived near Times Square and got to experience the city that never sleeps. "We saw Madison Square Garden during the NCAA tournament with a huge bracket in front of it," commented senior Bobby Almony. The following day, students traveled to Rockefeller Center to watch The Today Show and then to Columbia for their first day of classes. The rest of the week included attending a recording of Anderson Live and seeing two broadways shows, Matilda and Peter and the Starcatcher.  "I liked the music in Matilda.  When we got home, I showed my girls some YouTube videos of it and they've been singing it," said Forgette.  The students arrived back in Calvert County Friday, March 22. "It was a great way to end my high school journalism career and exposed me to all the opportunities that lie ahead," said journalism senior Jess Ward.
–John Headley, WNHS-TV
Just a phone call away
by Samantha Plant
Advertising/Business Manager
The klaxon goes off, the siren sounds and everyone runs for the fire truck in a rush of adrenaline, grabbing their gear along the way. These dedicated volunteer firefighters risk their lives everyday, but
they are excited for the opportunity to protect their community. Among the firefighters are a few courageous teens who work on ambulances and fire engines on a daily basis. The Dunkirk Volunteer Fire Department accepts volunteers from the age of 16, and some Northern teens have found that working at the firehouse is a life-changing experience.
"Growing up, my pop-pop was a fireman," said EMS Sergeant and Northern alumna Brianna Jurney. "When he had to retire [due] to medical problems. He became an arson investigator in Arizona. There was no greater childhood memory than listening to him talk about work and the friends he made." Teens have different stories behind their motives for joining the department, but all of them share a similar motivation: They want to help save lives. "I joined as soon as I was 16 because my dad was a member at Dunkirk, and I wanted to help the community," said junior Tristen Plant. "Someone has to do it, but it isn't made for everyone."
Being a member at the fire department isn't always easy. Even though the department is 100% volunteer, it requires a lot of hard work and dedication. These teens balance their high school classes as well as other classes like Emergency Medical Technician (EMT) or Fire One classes, which are required. "I'm taking an EMT class now, plus I am still in school and work. It is really stressful, and I do not have much time for anything else anymore, but in the end it will be well worth it," said junior Katie Lane.
Working at the firehouse comes with benefits too. If you are a member for two years, you can apply for a scholarship for college.
"Overall, I love riding the ambulance. It is where you will save the most lives and help make a difference. The best feeling is when someone comes up to you and says thank you," said EMT and Northern alumna Ashley Shrawder. "Since last March, I have been to three fires. The biggest one was in Anne Arundel County when two trailers were on fire. Sam Plant, Segeant Tyler Mills, Zach Adams and Sergent Zach Longfellow were all there with me. It took a couple hours, so after awhile it got very tiring from working nonstop. In the end, I love making a difference." Said Plant.
Working at the firehouse it is not always fun and games. Every student has a duty. They clean the building and equipment, making sure the apparatus is shiny, checked out, and ready to go on the next call. If you dedicate yourself and work hard you can become a paid firefighter or EMT. Fire sergeant and Northern alumna Zach Longfellow is in the process of becoming a paid firefighter for Prince George's County. "I made sure I got as many classes as I could. I dedicated myself to the firehouse and always made good decisions to make sure I stayed out of trouble," he said. "The process takes a year and a half long. It has many steps that are time consuming but the wait is well worth it."
"The Fire Department is truly a life-changing place," said Longfellow. "It is a second family. It is a brotherhood. It is a place you can always call for help. All of the calls you run and the crazy things you will witness really make you open your eyes and see how precious life really is, and how lucky some people can be."
APsolutely beneficial
by Grant Whittington
Managing Editor
Senior Courtney Wilke anxiously sifts through her mail, hoping for the results to the Advanced Placement (AP) tests that she took in May. She opens the envelope, carefully examines her scores and smiles. "My AP scores helped me test out of a few classes I would need to take at William & Mary," she said. Wilke is among the many high school students who score high enough on AP tests to be eligible for college credits. But are AP tests truly worth it for everyone?
There is great value in taking and passing an AP exam. If a student earns a passing score of a three, four, or five (on a five point scale) they could potentially save thousands of dollars. Instead of sitting in boring lecture halls for a semester in college to, essentially, retake something they covered in high school, students can study and prep to pass the AP test and earn college credit. University of South Carolina bound senior Thomas Berault said, "I got a three on my Physics AP Exam, so I tested out of my freshman Physics class." He was able to avoid retaking a subject he already knew by passing the exam. Vice Principal Suzanna Zimmerman is in charge of testing. "If students go through the trouble to sit through an AP class, they should be able to pass the exam. They could be surprised with their score, and it gives them a good experience of what a college test is like," she said.
The College Board reports that Maryland has ranked number one in AP success for seven consecutive years. High school students in Maryland notched a country-best 29.6% passing rate in 2012. In 2002, only 16.5% of students in Maryland passed exams, meaning the passing rate has increased drastically over the years. Maryland's success rate correlates with teacher's work to prepare students for the big tests. Northern teachers offer study sessions, after-school help, and mock tests all aimed at one goal: to help students pass the AP test. "I would suggest students who are willing to put in time and practice take the AP exam," said AP Statistics teacher Mrs. Kitty Vogel
Money can be an issue for prospective AP test takers. The College Board asks for $89 per exam in the state of Maryland. Other states reward testers for passing an exam. Indiana gives a passing test taker $100 in cash for every test they pass. This is a unique approach in encouraging students to take the test. It seems that in Maryland that encouragement is unnecessary. Maryland ranked second behind only Florida in the total percentage of seniors attempting an AP exam with 48.2%. It is more the norm to take AP tests here, while in states like seniors attempting an AP exam with 48.2%. It is more the norm to take AP tests here, while in states like Mississippi, only 4.6% of students pass an AP exam.
There are numerous benefits to taking AP tests and working to pass them. It could save prospective college students time and money in college. Living in Maryland could provide excellent opportunities to succeed based on success rates, resources, and devoted teachers.
College of the Issue: High Point University
by Mikey Allen
Feature Editor
High Point University (HPU) is a private, liberal arts college, located in High Point, North Carolina. With over 4,000 students, HPU is a medium-sized private college. The campus covers 200 acres with beautiful scenery, including an abundance of fountains, pools, flowers, trees, and large, elegant buildings. The pricey comprehensive cost of attending the school is $39,800 annually (including tuition, room and board and fees), but the cost is high for a reason. High Point offers many special features including study-abroad programs where students can pay regular tuition and attend school in foreign countries like Thailand, Australia and Spain.
"The student to teacher ratio is 15-1, so getting help from teachers and focusing in class is a lot easier," said Northern alumnus and HPU junior Andrew Tedford. High Point offers free tutoring to their students. "With a smaller class size, there is more one-on-one instruction. They offer tons of resources to help with projects, homework or essays," said Tedford. There are workshops every semester for students to learn how to become a better writer or researcher.
HPU has 13 residence halls that range from one-person suites with a private bathroom, to standard double rooms with a shared bathroom. "The school provides countless on-campus amenities, which is convenient if you don't have a car at college," said Northern alum and High Point sophomore Andrew Schleicher. Clubs and volunteer opportunities are available as well as intramural sports. "I'm a student government representative for the newly-founded Sports Management Association. It's a club for students that have an interest in the business side of the sports industry," said Schleicher.
The wide variety of activities appeals to the students and keeps them active at the college. "I'm on the Ultimate Frisbee team, and I just joined the Investment Club. We do actual investments with the stock market," said Tedford. A major goal of the University and its organizations is to prepare its students for the real world and their futures. Part of this goal includes the teaching of investment and management. To add to the long list of activities, there are 16 different Greek Life organizations. Students can join a sorority or fraternity where events and fundraisers are held at the Greek houses.
Fourteen Division One sports are offered at High Point, including men's and women's lacrosse, basketball, soccer, golf and cross country. "Through the school's athletic department, I volunteer doing game day operations," said Schleicher. One plus of the school: All students get into home sporting events for free.
Although HPU tuition is expensive, Schleicher believes the University makes up for it with its comforting atmosphere and impressive academics. "High Point is on the come up, evident by the schools increased exposure and expanding campus," Schleicher said. "It's a great time to be a part of this University."
Greek out!
by Matt Schwartz
Assistant Editor
When Northern alum Kate McGowan started her first semester at Farleigh Dickinson University (FDU), she was hesitant about joining a sorority. She was well aware of the stereotypes surrounding Greek life; the parties, and all the less than admirable decisions sorority girls make on T.V. To her surprise, she realized that the stereotypes aren't accurate. "The sororities and fraternities you see on TV are nothing like actual Greek life," said McGowan. "If anything, being in a sorority is more like being in grown up Girl Scouts. We do a lot of fundraising, charity events, and volunteer work. We love to do crafts. We have a bunch of traditions and songs, but most of it is just spending time with each other." McGowan decided to join Phi Sigma Sigma.
University of South Carolina (USC) freshman and Northern alumna Devin Cutlip is also proof that the stereotypes are not true. "I think the only cons I've experienced are the negative assumptions other people have about what Greek life is and what being involved entails, and feeling judged because of these misconceptions. I can honestly say that unless you become involved in a chapter, that it's hard to understand the genuine bonds that are formed and the plethora of opportunities joining presents," said Cutlip.
Northern alum and James Madison University (JMU) student Bradley Longsworth had a similar experience. "When I first came to school, I had no intention of joining a fraternity. One of my best friends introduced me to his brothers and told me more about Tau Kappa Epsilon, and I decided I wanted to be a apart of the brotherhood," he said.
Cutlip, a member of Chi Omega at USC, believes Greek Life has helped her transition from high school to college. "I wanted to join a sorority because it's a great way to make a big school small. Leaving for college is an overwhelming time in your life full of uncertainty, fresh starts and new friends, especially if you're going to an out of state school far from home. What I love about Greek Life here at USC is that it doesn't completely control the social atmosphere or really effect the overall student body since such a small percentage of our large population is involved," she said.   McGowan appreciates the family environ-ment sororities provide. "I would say being in a sorority has given me a home away from home, and a support system that I really needed. I've had a few rough patches since I've been at school, and my sisters have helped me through it all. I know if I suddenly needed to go to the hospital in the middle of the night, or if I just need to talk to someone, I have 40 girls just a phone call away to help," she said. Cutlip agrees. "I decided to join my sorority, Chi Omega, because I felt very at home with all of the girls there throughout the rush process and felt it was the perfect fit for me. Having a sorority family when you're eight hours away from home is a very comforting feeling. This tight knit group is the perfect remedy for homesickness and truly has given me a second family that is there for me no matter what," she said.
Annie Collins, a Northern alum and member of Zeta Tau Alpha at the University of Maryland, is a firm believer in the sorority system's community service. "My sorority, Zeta Tau Alpha, is nationally recognized for our work with breast cancer education and awareness. We organize a series of fundraisers, participate and volunteer with the Race for the Cure, and go to sports games during the month of October to distribute pink ribbons to the fans," she said. Cutlip's sorority, Chi Omega, also does philanthropic work. "Chi O helps me stay involved and active in the community through our philanthropy events for Make a Wish Foundation and other community service and sisterhood projects," she said.
Fraternity and sorority life offers students a tight-knit family atmosphere, a chance to get involved in the community, and the opportunity to make friends. "I would suggest that everyone join a fraternity or sorority. It was one of the best decisions of my life, and it will be forever because I am now a part of a brotherhood that is over 110 years old and 250,000+ strong," said Longsworth. McGowan agrees. "I would absolutely recommend everyone to at least look into Greek Life. It's not right for everyone, but if it's right for you, it could be the best decision you make in college. Not only do I have an amazing group of women who are always there for me and help me grow as a person, but I'm making connections and learning life skills that will help me for the rest of my life," concluded McGowan.
Seniors on their way up
by Cara Davidson, Dylan Brotherton, and Ashlyn Newton
Four hundred and three seniors will walk on stage at the Equestrian Center on June 5 to accept their diplomas. While graduation marks the bittersweet end of high school, there are many other responsibilities consisting of stressful planning and costly requirements. "I'm very excited about graduation, but it was stressful ordering my cap and gown and getting all of the forms filled out," said senior Kendra Kropkowski.
Prior to graduation, each senior must order a package consisting of their cap and gown and announcements for the big day. There is a strict dress code regarding what graduating students must wear under their gowns, including white dresses or skirts for girls and a white shirt with a black tie and pants for boys. Students not wearing the proper attire will not be able to walk during graduation. "The dress code is set by the county and it's definitely something that we enforce," said Principal Sylvia Lawson.
An intent to graduate form must be filled out and turned in to the main office by every senior, whether they plan on participating in graduation ceremonies or not. Every student also needs to have completed the state-required 72 hours of service learning. Another requirement is to make sure that all financial obligations are paid off by May 17. Students intending to graduate must also participate in the mandatory graduation rehearsal on June 4 at the Calvert County Fairgrounds. Graduation will take place at the Show Place Arena in Upper Marlboro, Maryland.
After the ceremony, seniors will go on a cruise on The Odyssey cruise ship in D.C. for Project Graduation. This event is sponsored by the Calvert Alliance Against Substance Abuse (CAASA), which provides a safe alcohol-free way to celebrate the end of high school. The cruise will be on the Potomac River, sightseeing around the nation's capital. There will be dancing and food for the new graduates and their guests to enjoy. "There will be a dessert and appetizer bar, a D.J., and a green screen that you can take pictures with like a photo booth," said Senior Class Council advisor Ms. Adrienne Forgette. Seniors must pay $50 for the event, but that will be returned to them after they have safely arrived back at Northern when the trip is over. Any senior planning on bringing a guest must fill out a guest form and pay $50 that will not be returned.
The exciting events for seniors don't stop after they graduate, as many will continue the celebration the week after graduation in Ocean City, MD for Senior Week. The planning for the trip can be very stressful for students as they struggle to find a place to stay that is affordable and big enough for large groups. "We spent weeks and weeks looking for places. I'm staying with six other people and we were all e-mailing places but everyone was denying us because we're seniors," said Victoria Menne. Finding the perfect apartment ahead of time is crucial, as many are booked well in advance.
"Graduation can be the most exciting time and the most stressful time," said Lawson. Getting things done in advance for Graduation, Project Grad, and Senior Week can be expensive and difficult at times, but the end results are sure to create lasting memories for the class of 2013.
Here comes the sun
by Maura Schwartz
Online Editor
Winter is bitter cold, the snow begins to fall, the make-up days for school closings begin to add up, and students spend months shivering in freezing classrooms. Spring is just around the corner. With it comes flowers, temperatures getting warmer, and the end to another school year in sight. With spring fast approaching, it's time to venture from under the piles of blankets and into the great outdoors with these fun activities.
1. Cherry Blossom Festival in D.C
Join thousands of spectators as they celebrate the budding beauty of the 3,000 cherry blossom trees in D.C, given as a present by Japan in 1912 to symbolize the everlasting friendship between the two countries. The annual festival spans March 20 to April 14 and nearly 1.5 million people come to celebrate each year. The festival includes over 200 special events including an opening ceremony, cruises, daily stage performances, light/firework shows, bike rides and, of course, the annual parade hosted on Constitution Avenue. The cherry blossoms continue to warm the hearts of American citizens, making the blossoms a gift that keeps on giving. (Time from Northern: 45 mins.)
2.  Dunkirk Park
Athletes looking for a fun time without the stress of a competitive league will find that Dunkirk Park offers many open fields for a variety of sports including soccer, football, ultimate frisbee, and baseball/softball, as well as two basketball courts, four tennis courts, and a newly redesigned skate park. For a fun afternoon with the family, pavilions are available for outdoor barbecues, picnics, and parties, as well as walking and jogging trails. Dunkirk Park opens mid-March and operates Monday through Saturday from 8:30 a.m. to 11 p.m. and Sundays from 12 p.m. to 11 p.m. (Time from Northern: 10 mins. )
3.  Go to a baseball game
Spend a day watching one of America's favorite pastimes at Nationals Park in Washington, D.C., supporting the Washington Nationals, or at Camden Yards in Baltimore, cheering on the Baltimore Orioles. March 31 marks the opening season games this year. If you don't go just for the love of the game, go for a taste of those delectable ballpark hot dogs. Tickets can range from $6- $70 depending on the seats. (Orioles Park: Time from Northern: 1 hour. Nationals Park: Time from Northern: 45 mins.)
4. Hiking
For those with a more adventurous side, hiking may be more suitable. There are several nearby parks that offer hiking trails.
Chesapeake and Ohio Canal Historical Park: (Hiking- Billy Goat Trail) This hike is 4.7 miles long and follows a path between the Chesapeake and Ohio Canal and the Potomac River, and is located near Great Falls in Montgomery County, MD. This hike trails over extremely rough and rocky terrain and also includes a climb along a cliff face.  The entrance fee is only $5 per car. (Time from Northern: 1 hour and 10 mins.)
Calvert Cliffs: Calvert Cliffs Park is a 1,460 acre wooded park on the Chesapeake Beach in Lusby, MD that offers 13 miles of hiking trails to the public. The cliffs were formed more than 15 million years ago and contain over 600 identified fossils, which visitors may search for in the open beach area. (Time from Northern: 40 mins.)
5.  Terrapin Adventures
Terrapin Adventures is a huge outdoor adventure facility located in Howard County, MD including unique activities like The Giant Swing, a zip line, a rock climbing wall, a high ropes course, and much more. Each course is around $50, but packages are offered for activities. (Time from Northern: 55 mins)
Unleash the fury
by Corinne Fabian and Emily Bennett
A slap shot to the upper right corner of the opponent's net sends Washington Capitals fans into a furor during an intense hockey game. A swarm of red, white, and blue rises from the seats, with fans jumping and screaming in excitement. After months of a National Hockey League (NHL) lockout due to money disputes, students are thrilled to support their favorite hockey team in the new shortened season.
The NHL season was supposed to begin on October 11, 2012, but was postponed to January 19 due to the lockout, which shortened the season and left many hockey fans disappointed. "I'm glad that hockey is back, but I think the lockout should have been dealt with a long time ago. I think we need a new commissioner," said freshman Lindsey Ferguson. Fans are disappointed that the season has been cut so short but they're excited that they can now watch the Capitals play. "I am unbelievably ecstatic about the NHL coming off lockout. It is my senior year and I couldn't live without my Caps," said senior Brooke Erly.
Capitals fans not only watch their team on television, but also attend games live at the Verizon Center in D.C. "My favorite part about going to the games is when you first walk into the arena and you can feel the cold ice on your face," said sophomore Brianna O'Daniel. "And also in the third quarter when they do unleash the fury." Junior Kyle Kampsen said, "My favorite part about going to the games is being around a whole bunch of other people with the same passion for hockey."
Capitals fans enjoy the games no matter the outcome – win or loss. "The atmosphere and energy at the games is always crazy. Everyone is so into the games," said senior Michael Carr. Watching the game in a crowded stadium with other dedicated fans brings unity to the fan base. "At the games, I always see adults fighting with the away team fans. It is funny to watch and see how dedicated the fans really are," said Ferguson. Watching the games live makes fans feel like a part of the team. "The energy is amazing and gets your adrenaline pumping," said senior Jessica Evans.
Fans at Northern not only watch the Caps for entertainment, but for the improvement of their own techniques and skills. Carr, a hockey player himself, said, "I try to model myself after Nicklas Backstrom and become the same player that he is." Kampsen also takes time to visit the players at their practices and learn from them at training camps. "I went to their Rookie Camp a couple years ago and met all of their rookies and got their autographs and got to talk to them about how to become a better hockey player," said Kampsen.
Meetine Caps players is a great opportunity for fans. Ferguson had the opportunity of a lifetime, meeting his favorite player Mike Green. "He is my favorite player because he is a leader, is humble, and works with the community a lot." For fans, meeting or even being a few feet away from a player is an dramatic and exciting experience. "I almost ran into Ovechkin at one of his practices at the Kettler Center by just turning around. He had to move to avoid me. It was the best three seconds of my life," said Erly.
It takes dedication and patience to meet players, but crazed fans are willing to make the effort. "Well, with John Carlson being my favorite player, I was trying to meet him. My friend and I ended up waiting two or more hours in the parking garage in the Kettler Center after his practice. He eventually came, and I got my jersey signed and a picture with him," said Evans.
O'Danniel, a big fan of Cody Eakin, showed her dedication to the Caps when she wrote letters to the team and also created matching bracelets for her and her favorite player out of Starburst wrappers. Sophomore Emily Armiger has been going to Caps games since she was very young and fell in love with the atmosphere that the team brings and decided to enter a contest in sixth grade. "I won [the] contest and the Caps mascot, SlapShot, came to my school and gave me his jersey. I remember being so excited and surprised that I had won,"  she said. Carr has been to over 50 Capitals games since he was born and has been able to meet almost all of the team's players and even has one of Ovechkin's sticks. Ferguson was ecstatic to see that Mike Green followed her and replied to her Caps tweets on Twitter. After trying so long to reach him, she felt great. Erly exhibits her love for the team in various ways, and on her 16th birthday her parents gave her a special birthday cake with her favorite player, Alex Ovechkin on the top.
Caps fans at Northern are dedicated and willing to do anything to support their home team. "I love the Capitals because they are a team that never gives up, that whenever you're around them you want to always 'rock the red' and chant their name constantly," said Erly. A true Caps fan will be with the team through all the hard-fought games they've lost and all the hard fought games they've won. "I've seen the Caps play horribly and watched them go through some pretty rough seasons, but I have always continued to watch them and have faith that they will improve and finally win a [Stanley] Cup. A good fan will always stick with their team, and that's something I've always done," said Armiger.
On their way up
by Jennifer Linkins
Editor-in-Chief
As Northern alumna Lili Zheng hits the alarm clock, she rolls over to see it is 2 a.m. She is happy to be getting up at this time as she readies herself and prepares for a morning of exciting, breaking news. Zheng is a junior at Temple University in Philadelphia, PA and interns for FOX 29's Good Day Philadephia. She has made great strides in her journalism career since leaving Northern, but she began as a high school sophomore in broadcasting class. Zheng is one of a number of Northern graduates who have moved on to successful careers in professional journalism.
"The journalism education at Northern was a huge assist in my career, absolutely," Zheng said. She graduated in 2010 and served as the Executive Producer of WNHS her senior year. Leaving small Calvert County and becoming immersed in the dense population of Philadelphia, Zheng was sure her face would be lost in the crowd of journalism majors. "Most stations in the city need their interns to be juniors in college or older, so I'm really grateful that Temple has programs like TUTV's Temple Update or the school newspapers that I was able to build my resume with until I was old enough to intern," she said.
Her big break came with an internship at Philadelphia's FOX 29. "I started in January and will finish in April, but have been with FOX 29 since September when I interned for their evening newscast." As she continues with her journalism education, Zheng hopes her hard work will pay off. "Interning in a city where there's thousands of talented people who are gunning for the same job has reminded me that the only place the word success comes before work is in the dictionary." 2005 Northern graduate Kevin Sullivan is aproof that a career in journalism can bring amazing opportunities. After his involvement with Northern's broadcasting class, he went on to major in mass communications and public relations at York College of Pennsylvania. "I became immersed in the campus radio station, earning a radio show on  the FM airwaves my first week thanks to my broadcast experience from NHS. I also became the chief copywriter and editor for the station," said Sullivan. The job had perks including the ability to work with many local bands and go on tour with one of them, called LYNAM.
After college, Sullivan began working as the Promotions/Marketing Director for 103.1-FM WRNR in Annapolis. Through this position, he has met famous artists and bands like Lana Del Ray, Grace Potter, Civil Twilight, and Delta Rae. "My journalism career came to be because I volunteered and interned when I couldn't be an employee… Don't be a spectator when it comes to the things you want to do or you'll watch opportunities pass you by. Get involved somehow," Sullivan said.
Northern alumnus Matt Wilson served on The Patriot Press staff for three years and graduated in 2006, then majored in print journalism at the University of Maryland. "As far as experiences, I was able to take classes taught by former Washington Post sports editor George Solomon and ESPN Around the Horn regular Kevin Blackistone that really solidified my interest in sports journalism."
After graduating from college, Wilson found sports journalism jobs to be scarce, and he eventually interned as a transportation writer for the American Association of State Highway and Transportation Officials (AASHTO). After five months he hadn't found his niche. "I was determined that my next job was going to be in sports. In January 2011, I got a paid position with the Bowie Baysox, a Minor League Baseball team, as the Communications Assistant, which was basically a season-long internship," he said. "It was a tough job that required really long hours and not a lot of pay, but I really loved writing about and working in baseball." Wilson is currently working in a full-time position at the Baysox as Communications Manager.
Through hard work and dedication, alumna Michelle Gordon is living a broadcasting dream, working as Producer for Comcast SportsNet. Gordon's journey began an Northern, where she served as sports editor on The Patriot Press staff. After graduating in 1996, she attended Elon University in North Carolina, majoring in Broadcast Communications. "Unlike many large universities, I was able to get involved with our on-campus television station my first week on campus," she said. During her time at the Office of Television Services and Elon Student Television (ESTV), she served in many positions on the crew like producer, director, and even camera operator. "My junior year, I was named Station Manger [of ESTV] and was the first female to hold that position." Some of Gordon's internship opportunities included at the FOX affiliate in High Point, NC; KTTV, the FOX affiliate in Los Angeles; and the Atlantic Coast Conference. "I always encourage students to be aggressive and take initiative," she said, "Do as many internships as possible and work hard and show your 'employers' that you're serious about you career goals. It goes a long way."
Gordon now works for Comcast SportsNet Mid-Atlantic in Bethesda, MD and has been there for 11 years. As producer, Gordon has experienced unforgettable sports moments, including  covering the 2012 NFL Draft, where the Redskins drafted Robert Griffin III; the 2011 U.S. Open at the Congressional Country Club in Bethesda; numerous ACC Basketball Tournaments and NCAA Tournaments; and the 2013 Super Bowl in New Orleans. "The Super Bowl was unbelievable," she said. "I met so many people and covered so many different events leading up to the game…Being on the field after the game was without question my favorite moment."
Many other Northern alums are spread throughout the world of journalism in television, print and public relations. Probably Northern's most famous grad is Michelle Sigona who started on the staffs of WNHS-TV and the yearbook and became an Emmy Award winning reporter and producer for America's Most Wanted. She has also worked for Fox-5 in D.C., CNN, HLN and Investigation Discovery (ID).
Considering how succesful these rising journalists have become, many NHS student journalists hope that they will one day see their name on the byline of an influential newspaper or sit in front of the camera at a broadcasting station. Zheng said, "Just remember that you don't have to be defined by your mistakes if you're willing to work hard and make up for them with your successes because if you want something bad enough, then you'll fight for it."
Kickin' it old school
by Grant Whittington
Managing Editor
Northern High School may look the same on the outside as it did in 1973, a somewhat dull brick building with no windows and deep smoking pits. But Northern has changed significantly in its 40 years of existence. There has been an impressive shift in academic courses and attitudes. "The rigor of instruction has greatly appreciated. We have way more students going to college," said Ms. Debbie Wilson, an English teacher who has been here for 35 years.
Mathematics teacher Ms. Kitty Vogel agrees. "When I got to the school in 1976, there were no Calculus classes; they only offered Algebra III," she said. When Vogel started her career at Northern 37 years ago, it only took two math credits to graduate. "There weren't very high goals in education. Most students didn't go to college," she said.
Not only has the education of the school changed, but some cultural aspects of Northern have been altered as well. In the years just after the school's opening, students were allowed to take smoke breaks in the smoking pits in the front of the building. In addition, there were two teachers lounges in the school until about 15 years ago, one allowing smoking, and one prohibiting it. "It was just the way things were," said Vogel. "Times were different then. More people accepted smoking."
Along with the smoking pits, the dress code has progressively changed over the years. "There used to be no restrictions on the way students dressed because most kids just knew better. But as the style changed, and the way children dressed became more flashy, they made the rules," said Home Economics teacher Dr. Pamelia Moore who attended NHS as a student when it opened. The way teachers dress has also evolved at Northern. The traditional shirt and tie for the male teachers and dress or skirt for the female teachers has disappeared and they now wear a more casual attire.
There have been physical changes to the school as well. Northern is the oldest high school in the county (Calvert was first but has recently been torn down and replaced), but there have been modifications to the school since its opening. The rooms in the building used to be wide open. In each department (Mathematics, English, Science, and History), all of the classrooms were meshed into one large area. This was an "open classroom" concept popular at the time. "The teachers and parents agreed that this style was just stupid," said Vogel. "If there was any commotion at all, it distracted dozens of classes." To avoid distractions, the tan metal walls were added dividing the rooms–and it stands that way today.
Many also don't know that originally, both the high school and middle school were housed in NHS's building with grades 9-12 on the English side and 6-8 on the Math side.
Northern has changed significantly since its opening. There are only seven periods in the schedule now, not eight, which was implemented five years ago. There is now a one-hour lunch instead of three lunch shifts so students can enjoy their meal and then either receive help from an instructor or go to a club meeting.
Some things have remained the same since 1973. "One thing hasn't changed for me, and that's that the air conditioning and heat still don't work," said Wilson.
Mission: Completed
by Jennifer Stacy Linkins and Allison Schleicher
Senior Makayla Raby pauses, turns around, and takes a mental image of what seems to be an entirely new world in front of her. She tries to collect the memories of the past week, then steps on to the bus that will take her home to northern Calvert County. Last summer, she had a once in a lifetime experience when she went on a mission trip to Honduras with her church group. The Honduran citizens she impacted, as well as the strong relationships she created with her peers, will stay with Raby for the rest of her life. Across the country, teens are making an  impact through mission trips, and many Northern students are a part of that revolution.
"They are amazing," said Raby, referring to Chesapeake Church's mission trips and their benefits. She became interested in going for one week this past June to Honduras after watching a video about a similar trip that a group had taken the year before. "I wanted to experience it for myself," she said.  Senior Amy Shearer also attended the Chesapeake Church trip.  Shearer felt motivated to go after hearing other people's stories. "They said how fun and life-changing it was, and it made me want to experience it."  The group of 16 people departed Maryland at 5 a.m. that day and arrived in Florida, then took a second flight to Honduras. "Then, we had to drive about 13 hours to get to the town," said Shearer. "We didn't get [there] until 9 p.m. that night."
The group completed a variety of service projects that week. Raby said, "We installed water filters in their homes that will give them clean water for ten years. The water they have now is so dirty." Several boys in the church group also built a small house for a Honduran man. "It was a small house for him and his family (he had about ten children), but they were so grateful for it," said Shearer.
Both Raby and Shearer can identify the spiritual benefits of the trip. Shearer stated, "It changed my views on a lot of things and how fortunate we are." Raby is planning to go on another mission trip this summer after creating such encouraging memories last summer.  "I especially remember when one of the little boys told me I was his angel," she said.
Senior Brianna Kovacs has gone on a number of mission trip experiences with the Friendship United Methodist Church, which holds its Appalachia Service Project (ASP) trip every summer. "We go to either Virginia, West Virginia, Tennessee, or Kentucky in the Appalachian mountains," she said. Kovacs, who has gone on the ASP trip three times, became interested in mission trips after hearing from her dad and sister how rewarding they are.
Last summer, Friendship United Methodist went to West Virginia and did construction work on several houses in order to make them more livable. "A man's children were taken away from him because the living conditions were so bad," she said. "It was his son's birthday midway through the week, so we had a mini party even though his son wasn't there. The man started crying because he was so upset that his son wasn't there, but he was so happy that he could live with him again once we were done fixing the home."
Chuck Muller, the Hands On Mission Experiences (HOME) team leader and a member of Friendship United Methodist, said, "I believe that the students that go on these mission trips get a great deal out of the experience. These trips to other areas of the country expose students to a way of life that is different from what they see every day at home."  Kovacs is looking forward to continuing this project in upcoming years.
Members of the choir program at Friendship also reached their volunteer hands beyond our country this past summer when they visited Moscow, Russia on a trip that lasted about two and a half weeks. Senior Charlie Stewart said, "We wanted to sing to show we were one people despite our differences as countries."  During their time there, the choir sang at several places including a retirement home, a park, a church, and even a jail.  "We actually sang in the park once and had a big crowd stop and listen to us, which was pretty cool," said junior Jenna Dean.
They also participated in a variety of other service projects. At one point, the group worked to clean the drinking water at a camp in Voronezh so that they were able to have good meals. Stewart said, "I would definitely recommend going on a mission trip because it gives you a perspective of your life and makes you see what you hadn't."
A number of students at Jesus the Good Shepherd church and have attended mission trips throughout the U.S.  Sophomore Michael Marinnacio went with his group to Manchester, Kentucky for a week last July. "The goal of our trip was to help strengthen the community in faith and also to help with community service projects all around Manchester," he said.  Seniors Madi Marinnacio, Tim Addison, and Peyton Colgan, as well as junior Karly Klem, also went on the Kentucky trip.
"We ran a bible school, and we also visited nursing homes and adult daycares.  While we were there, we sang and made crafts for them. Also, we painted benches in the local parks," said Marinnacio. Addison enjoyed working with the children in that community, who, he said, "live in a rough, poor part of the country and don't always get to have fun."  Colgan's most memorable moment from the trip was when, "I was throwing a football with a little boy, and it went into the creek there. I went to go get it with him and told him to watch out for the water bugs. 'They may bite you.'  He said sometimes he likes when the water bugs bite him because it's the most attention he gets. I just paused and he came up and gave me a hug and said thanks for playing with me. That moment I knew we had an impact on these kids."
Klem was also inspired by the children she met on these trips. "I would say that [they] helped us way more than we could ever help them," she said, "They showed us how to be truly happy when you have almost nothing." Youth Minister and group leader Julie Gartrell noted the difference their work made on the communities. "We have gone to some locations more than one year, and when you go back you can really see how we have impacted the people there. Some of the students in those areas have become valedictorian and in their speeches have given credit to our mission trip for getting them there."
No matter how religious one is, a mission trip is an excellent opportunity, "to make a difference and meet new people, and it always feels good to do something good for someone else," said Marinnacio. Students who have taken advantage of these service trips say they became more culturally aware and sympathetic towards others. Gartrell said, "When we're in this location with all the people there, we are all the same. There is no class division. We are all one family. That's beautiful."
Doomsday
by Grant Whittington
Managing Editor
You wake up to the pre-dawn cold air that winter brings and the annoying rattle of your alarm. You aimlessly search your room for an acceptable outfit for the day and recall that there is a math test fourth period. You follow your typical morning routine – brush teeth, apply deodorant, pack lunch, catch up on the latest sports on ESPN, and sprint out the door to catch the bus. Like any other day, you sit in first period, dozing off until you eavesdrop on a conversation. Skeptics to the spontaneous end of the world, they mock and scoff at the idea that this will be their last day alive. Suddenly, you feel a rush of pulse pounding emotion. You look at the SMARTBoard and realize it's the day before the Winter Solstice: December 20, 2012. Today marks the eve of the Earth's destruction. It's time to panic.
You recall doing a science project on the possibilities of the Earth ending and, wow, the possibilities are endless. Scientists believe that the world could reach its demise in numerous ways. The world could end with a reversal of its magnetic fields (this has happened before), it could fall into a rogue black hole, a global nuclear war could break out and, less likely but popular, an attack by robots or zombies or robot-zombies is a possibility.
You cross your fingers and hope that President Barack Obama doesn't accidentally hit the big red button, triggering a final World War. Suppose he did. You think, "mankind  survived the Y2K scare when computers and technology might have attacked when the clock struck midnight in 2000, so we must be capable of surviving many tiny missiles fired at us, right'?  Wrong. Remember the movie Chernobyl Diaries? Radiation poisoning then a zombie apocalypse? If Obama or any Russian, Chinese or North Korean government official did slip up and press the red button, we might be dodging nuclear missiles and zombies: Not a very pretty sight.
You begin sweating profusely and feel it necessary to shatter your perfect record of rule-following to whip out your cell phone and warn your parents about the horrible travesty set to occur in 14 hours, 35 minutes, and 22, 21, 20 seconds. You become hysterical. You had dreams of going to college, getting married, having children, and crossing number six off of your bucket list. You are mad. Mad at the Mayans for spontaneously deciding to end their calendars on December 21, 2012 and at the Bible for decoding the symbols and numbers 666 and 2012 . You are mad at yourself for not having traveled more. Whatever the Mayans planned for the end of the Earth, you fear it. Whether the apocalypse is caused by an invasion of aliens or some weird realization that your life as a student at Northern was all a dream, you fear death.
Researching this horrifying, appalling and shocking topic, you make an incredible discovery. Your sweat clears, your fears are silenced, and the skies brighten. The Mayans forgot about leap year. So, according to the Mayan calendar and adjusting for leap days, it is already 2013. Which means the world should have ended sometime last summer. You are overwhelmed with joy and realize you have a math test in under two hours. The cramming begins.
10 Ways the World Could End
10: Planet X or Nibiru- The theoretical tenth planet away from the sun known as Nibiru is set to be in gravitational proximity to Earth. If the two planets were in the same gravitational pull, the earth would feel effects through earthquakes, volcanoes and mass flooding.
9: Global warming- Scientists have speculated that as the climate is steadily growing hotter bad things are happening. The World Health Organization already estimates that 150,000 have been killed by the effects of climate change.
8: Gamma ray burst- When a massive planet or star explodes, it sends out high-frequency electromagnetic radiation. If a gamma ray burst even 30 light years away hit the earth it could destroy all life on the planet.
7: Nuclear war- With tensions high between nations, nuclear war seems possible. Scientists speculate that if two powerful nations went into a nuclear war, it could result in years of smoke clouds cooling down the planet.
6: Asteroid impact- Scientists estimate that a threatening asteroid a would raise clouds to blot out the sun, ruin agriculture and lead to mass starvation. One will come close to hitting the Earth in 2028. The mile-wide rock could hit the Earth at over 30,000 m.p.h.
5: Mass insanity- 450 million people across the planet have been diagnosed with some sort of disorder. By 2020, depression will become the second leading cause of disability.
4: Solar Storm- In 1859, a massive solar storm sent deadly solar particles to earth, frying the electrical communications of the time – the telegraph lines. A huge solar burst today could destroy all electronics, wrecking the world economy.
3: Technology rises- Moore's Law states that computer chips get twice as powerful every two years. If computers developed real artificial intelligence and self-awareness, would the machines be nice or deadly?
2: Supervolcano- Two million years ago, a huge volcano eruption shot 600 cubic miles of dust and ash into the atmosphere probably killing off the dinosaurs. What would it do to us?
1: Global pandemic- The Black Plague in the 1300's killed an estimated 25 million people and the Spanish Flu in 1918 killed 50-80 million. International travel and drug resistant bugs can allow diseases to spread faster than ever. What if a major disease with no cure hit again?
Holiday Mash-Up
Eight Things You Didn't Know About Hanukkah
8: The story of Hanukkah involves the remarkable underdog victory by the Israelites over the mighty and powerful Greek army. The land in which the Jews resided was overtaken by the Greeks who then forced the Jews to abide by their religious code, which practiced polytheism. The Jews who disobyed this order and continued to worship only one God were brutally killed. Outnumbered, a band of Jews, lead by Judah the Maccabee, assembled to defeat the Syrians and Greeks. After reclaiming their land, they were disgusted by the temples and synagogues with idols, false Gods, and vandalizism.
7: There are eight nights of Hanukkah because Judah's people found only enough oil in the ruined temple to light a lamp for one day. Miraculously, the oil didn't stop burning for eight full days allowing more oil to arrive. Today, the lights symbolize the strength of the Jewish people.
6: Hanukkah actually isn't the most holy of holidays. Yom Kippur, Rosh Hashana, and Passover are far more religiously important than Hanukkah. Yom Kippur, a day when Jews gather in the synagogue to cleanse their sins from the previous years is the most holy Jewish holidays.
5: There is a special candle on the menorah known as the Shamash. It's the tallest candle and is used to the light the other candles. It's used because according to the ancient Israelites, it is a sin to remove a Hanukkah candle from the menorah.
4: Hanukkah isn't always on the same days according to the typical modern calendar, but it falls on the same day every year in the Jewish calendar.
3: Every night for the eight nights of Hanukkah, Jewish families gather around a menorah and light the candles while simultaneously singing a prayer commemorating the miracle. It is also common for families to indulge in gild (chocolate coins) and latkes (potato pancakes).
2: Families often play a game which involves spinning a dreidel. A dreidel is a top with four sides with each side representing a Jewish letter with a symbolic meaning. "Gimmel," "Daled," "Hay," and "Shin" appear on the face of the dreidel. Spinning the toy can either be a fun game for families to play or a a gambling game for adults.
1: Although there are few Hanukkah movies, especially compared to Christmas movies, there are some enjoyable films. Full Court Miracle (2003) tells the story of an unathletic all Jewish middle-school basketball team transforming their season with the help of an ex-NBA player and a few miracles. Eight Crazy Nights (2002) is a hilarious comedy which portrays a cartoon version of Adam Sandler, as the town drunkard, transforming his life after meeting an elderly referee during the Hanukkah season.
–Grant Whittington
Top Five Holiday Songs:
5. "Santa Claus is Coming to Town" (Tom Stacks) The source of the popular cartoon for television, this one is mostly famous for its multiple recordings by popular singers including Bruce Springsteen. The story is helpful to parents in that it encourages children to be good for Santa.
4. "(There's No Place Like) Home For the Holidays" (Perry Como) Also performed by the Carpenters, "Home for the Holidays", was published in 1954 and is perfect for getting into both the Christmas and Thanksgiving spirit.
3. "Jingle Bell Rock" (Bobby Helms) There may not be a song more widely known than this one. Its catchy tune makes it enjoyable to sing along and keep people singing all holiday season long.
2. "It's Beginning to Look A Lot like Christmas" (Bing Crosby) What better way to get people into the Christmas spirit than to write a song about it?  A favorite because of famous recording artists like Crosby and Michael Buble.
1. "I'm Dreaming of a White Christmas" (Bing Crosby, Danny Kaye, Vera-Ellen, and Rosemary Clooney)  The ultimate four-pack of singers famously perform this song in the 1954 musical White Christmas are yet to be outdone by any other competitor. Almost a lullaby, the song made the ideal of a white Christmas a big part of the holiday.
–Jessica Ward.
Five things to do during break
1. Ice Skating
Ice skating with friends and family is a great way to spend an afternoon during the winter. Whether you go to an indoor or outdoor rink, skating is fun for the whole family. There are many ice skating rinks close by: The Ice Skating Rink at Quiet Water Park in Annapolis (Adults $6), The Sculpture Garden Ice Rink at the National Gallery of Art in D.C.($7 students), and the Bowie Ice Arena ($4) are all places to skate throughout the winter.
2. National Christmas Tree
The 90th annual lighting of the National Christmas Tree in Washington, D.C. was on Thursday, December 6. After the lighting ceremony, the tree is open for the public to see for free until January 1. There are also 50 smaller trees decorated in honor of each state, a Yule log, and nightly live performances by volunteer choirs.
3.  ICE! at the Gaylord hotel
The Gaylord hotel at the National Harbor is hosting its popular holiday event ICE! from November 16 to January 6. The theme of the event this year is Dreamworks' Shrek the Halls. It features ice slides and giant sculptures of Shrek characters. Tickets to ICE range from $16-$30 and can be purchased online or by phone.
4. Christmas Lights
Annmarie Sculpture Garden and Arts Center in Solomon's offers a display of holiday lights called Garden in Lights throughout December. The event includes a variety of light displays as well as treats and  drinks in the Holiday Cafe and an ornament show in the Arts Building. Tickets are $6 and the display is open most nights during December from 6-9 p.m.
5. Craft Fair
Craft fairs offer a place to find fun and unique holiday gifts on a budget. The craft fair here at Northern is on December 8 from 9-3, and will feature items from 60 different crafters. Door prizes and concessions will also be available.
–Ashlyn Newton
Are you wondering what to put on your holiday gift list your parents are always bugging you for? Need ideas for your loved ones? Following are ten of the hottest gifts on the market for 2012.
1. iPhone 5 starting at $199 with an upgrade at Verizon.com and in stores. The new iPhone is completely updated. It has a 4 inch screen, 8 megapixel camera, Siri, and even a new longer lasting battery that seems to be the iPhones biggest problem.
2. iPad Mini starting at $329 at apple.com and in Apple stores. This newest iPad has a 7.9 inch LED screen that is fingerprint resistant. It also has a Facetime HD camera and a new iSight camera.
3. North Face Denali jacket starting at $169 on Northface.com. This jacket is designed to be stylish and comfy to keep you nice and warm in cool to cold weather. It's also durable and is made with 71% recycled material.
4. Women's Bailey Bow UGG boots starting at $205 on uggaustrailia.com. The Bailey Bow has fixed double bows on the back to enhance the features.
5. MacBook Pro starting at $1,199 on apple.com! You know what they say – thin, light, and powerful. Plus, really expensive.
6. Men's Canvas Authentic Vans $45 on shop.vans.com! This style is simple, stylish and effective!
7. Just Dance 4 for Wii is  $39.96 at Walmart and on walmart.com. This is your ticket to the best new music with over 40 tracks from a variety of top artists, popular genres and hot Billboard singles!
8. Pandora starter bracelet starting at $40 on pandora.net. Get the stylish new bracelet every girl is asking for! Beads not included.
9.Vicorias Secret Pink Yoga pants starting at $39.50 on victoriassecret.com and in stores! Cute to the core, perfect for working out and wearing out!
10.Beats by Dr.Dre headphones starting at $179 on amazon.com. Clear sound and deeper base that's what they're famous for! They don't have one speaker but two speakers in each can.
–Samantha Plant
Black Friday Bonanza
by Claire Gautrois
Entertainment Editor
While some people spent the Friday after Thanksgiving sleeping in after stuffing their stomachs with turkey, others stayed up all night to fight the large crowds to get the best deals on holiday gifts. Black Friday became a night and day event this year in which department stores officially open the holiday shopping season. The night/day has been known to leave customers with unbelievable stories. Here are some accounts from Northern students and teachers who shopped until they dropped on Black Friday.
"On Black Friday night, I spent three hours waiting for my brother to finish shopping, and when we came back my, mom's tires were slit." –Junior Paige Cunningham
"In the sock section of Walmart, I saw my friend who I haven't seen in a year, and we both screamed and hugged." –Sophomore Hannah Gerardy
"My sister Gabby and I went to Walmart to get a TV for my dad's birthday. A lady ran over us for the last TV, but we still got it." –Junior Maddie Henwood
"I went to Walmart with my mom, and this lady next to us in line at the register threw a fit. She started yelling, "Y'all, I ain't trying to cause a confusement but I'm trying to get [an item]. It's cold. I need to get a blanklet." My mom and I died of laughter. – Junior Iysha Dent
"At Express, they had 50% off everything and it [the sale] ended at noon. The checkout line went around the store four times. I got there at 11. I told my daughter to get what she needed. We got in line two minutes before the 50% ended. They cut off the line after I got in. It was crazy." – Mrs. Stacy Karcesky
"It was fun and hectic at the same time. Everyone rushing, waiting for stores to open at 5 a.m. It was crazy. H&M had 100 people waiting in the front." –Senior Joey Gebicke
"At Victoria's Secret, as soon as the doors opened people started banging on them, and I said, 'excuse me' to someone and they shoved me into the wall." – Senior Kristina Lozupone
Zoom, Zoom, Zoom
by Matt Schwartz
Assistant Editor
As senior Brant Leadbeter pulls into A Lot in his sea-foam green 1965 Oldsmobile Cutlass, he is met with jealous looks from every senior. "It's cool because people will look at you and stare as you drive by," said Leadbeter. He relishes having a classic car. "Some people think my car is awesome [and] other people don't like it," he said. Not everyone agrees. "His car is slow, has a very ugly color, doesn't have good heating or air conditioning, and needs to be renovated," said Gullion, regarding Leadbeter's classic.
His father, Mr. Mike Leadbeter, bought the Cutlass 20 years ago, and is planning to renovate the car in January. Regardless of his friend's opinion, Leadbeter is convinced he has a car that will never go out of style. "It's pretty great to have an old car that's no longer made because there are very few that you see driving around on the road. It's unique. Driving the Cutlass and being able to drive a car that is a lot older than me is cool," he added.
Senior Joey Gebicke takes a different route to school, driving a 2006 Ford Mustang fitted with a monitor and an Xbox 360. "I'm very grateful to have my Mustang. When I was doing my car shopping, I knew I didn't want any original car. I wanted something that stands out, a car that would make you turn your eyes and look at it on the road," he said. Like Leadbeter, he wanted to stand out, so he made the unique choice to put a video game console in the Mustang. "I decided to put an Xbox in my car because I already have a monitor in it for my head unit, so I thought it would be cool to just hook up the console to the monitor. All of the wires are hidden and you can't even notice that I have the Xbox in it. I think it's pretty legit," he said. "My car stands out from the rest. It feels cool knowing that if I go on a long road trip with my friends and they get bored, they can just play Xbox."
Some drivers, like senior Nicole Mentch, who drives a 2008 Toyota Prius, take the economically sound route to school. "The gas mileage is great, but it is also very quiet, and it is great for tight parking and city driving, while still having a lot of room inside the car," she said. Though it is economically sound, her Prius still lacks the laid-back style she prefers. "I wish I owned a pickup truck instead of a Prius. I don't hate the Prius as much as I thought I would, but it is not my favorite car," she said. Despite the lack of power, the gas mileage speaks for itself, with an average of 46 miles per gallon and a tiny 11.9 gallon tank.
Senior Brady Grubb ignores his wallet and takes his 2001 Dodge Diesel truck to school. "When I'm driving it, its like I own the road since it's so big. I'm privileged to have such a truck," he said. It makes up for its low gas mileage at 12 mpg with its ability to get people's attention. "I like the noise level. It's really loud. I like the 20 inch rockstar rims, the big wheels and tires and the fact that it goes really fast," added Grubb.
Whether students decide to turn heads or avoid heading to a gas station, their personalities are reflected by what they drive. Gebicke said, "I'm glad I got the car I did. It is a perfect match for me."
College of the Issue: York College
by Seth Grimwood
News Editor
It's a beautiful day on the York College lacrosse practice field as Northern alumnus Zach Fabian dodges down the wing, faking a pass into the middle and dumping it into the goal.  It's just one of the exciting drills that are part of his life as a Spartan. "Practice is always fun. The speed of the game is a lot different from the high school game," said Fabian.
York College, home of the Spartans, is a private university located in York, Pennsylvania. The student body is made up of 4,600 full-time undergraduate and 300 graduate students. The school offers over 50 majors, giving students a lot of variety when picking a career. Senior Ryan Emmert, who has committed to the school, said, "It has enough majors to fit my needs."
The average class size at York is 22 students, with a student-faculty ratio of 18:1. "The teachers are amazing," said Northern alumna Erica Frendach. "I have not had a teacher I haven't liked yet. Because of the small class sizes, they all know you by your name and are willing to help whenever you need it." Alumna Shelby Drury also favors the intimite class sizes and uses them to her benefit. "Personally, I like how small my classes are, and you seem to get to know your professor better in a smaller environment. They tell me what I need to work on and tell me how to do my best," she said.
York offers a college experience escape, while still being close enough to Calvert County. Drury said, "It is less than two hours away from home and is close enough to go home when I want, but far enough away to get the real experience of living on campus."
The yearly costs are $16,520 for tuition and $9,300 for room and board, totaling $25,820. Despite the high price, York does give prospective students the opportunity to earn scholarships. Both Frendach and Drury received the York Heritage Award, which provides worthy students $2,000 per semester. According to York's website, 98% of first year full-time students receive financial aid, while nearly one-fourth of freshmen receive a merit scholarship.
The Spartans offer 22 Division III sports, 11 men's and 11 women's sports, all of which are included in the Capital Athletic Conference (CAC). Fabian plays lacrosse for the school and is thoroughly enjoying the challenge of college sports. "Tryouts were tough, but thankfully I made it and I am having a lot of fun," he said. Like Fabian, senior Mikey Allen will attend York to play lacrosse next spring. The college also offers 25 intramural sports and 90 student clubs and organizations. Senior Colin Fleming will be running cross country and track at York next year.  "I like York because of the sports teams, and it's a bonus that I get to run there."
Students looking for small class sizes, competitive sports programs, and a school close to home should consider York College. Drury added, "Everyone here is nice and welcoming, and they want you to make this your new home."
Sock it like it's hot
by Hannah Emerson
Managing Editor
A new hairstyle known as the "sock-bun" is showing up in the school hallways. It is not only stylish, but also less time consuming than it looks. All you need to craft this hip hairdo is one hair tie and a sock that matches (sort of) your hair color. Pre-made socks, made specifically for the sock-bun can be purchased or can be made at home by cutting the foot part of the sock off. This hairstyle can be created in six simple steps.
Steps:
1.  Put hair in a high ponytail.
2.  Flip head over and place the sock at the very end of the ponytail and pull hair strands through the hole in the center.
3. Smooth the hair over the sock, tucking the ends underneath. Try to disperse hair evenly around the sock.
4.  Slowly roll the sock, along with the hair, down the ponytail until you reach the base. Use the same motion to roll up the sock just like in the second step.
5. Flip the bottom side of the sock upward from the inside out with both hands. While rolling, tuck loose strands underneath the sock. Upon finishing, fill in gaps in the bun's structure by gently spreading hair out.
6. Tidy up any loose ends. Bobby pins may be used, but are not necessary.
Cowboys vs. Redskins
by Liam Megonigal and Dawson Fielding
It is first and 15 from the Redskins 32 yard line. Rookie quarterback Robert Griffin III drops back and unloads a deep pass to second-year wide receiver Aldrick Robinson. Robinson catches it in full stride and demonstrates his impressive speed as he sprints to the endzone to complete a 68 yard touchdown pass to score the first touchdown of the game and give the Redskins the lead during the game on Thanksgiving Day.
The Redskins took a big 28-3 lead by halftime and it looked like they were on their way to an easy win, but the Cowboys fought back. Dallas outscored the Redskins 28-10 in the second half. It wasn't enough to beat the lead the Redskins gained in the first half. In the end, the Skins came out on top by a score of 38-31. It had been ten years since the two teams faced off on the holiday, so fans for both the Cowboys and the Redskins were excited to watch one of the biggest rivalries in sports.
Even in this area a half hour from Fedex Field which is filled with Redskins fans, there are still many Cowboys supporters and the tension between the two groups is always high. Close, exciting games have defined the intense rivalry between the two teams over the years. The two teams have met 104 times beginning as far back as 1960. The Cowboys own the series match up lead by a record of 62-41-2. Since the Redskins and Cowboys are both in NFC East division, they face each other at least twice a season. Over the years, the two teams have won a combined 27 division titles and eight Super Bowls.
With the win on Thanksgiving, the Redskins became contenders for a spot in the playoffs. This year, the team selected quarterback Griffin (RGIII) from Baylor University, the second overall pick in the NFL draft. The Redskins had to trade two future first round picks and a second round pick to acquire their franchise quarterback. Griffin is thought by many to be the most electrifying player in the league. "I think RGIII is the best rookie quarterback that the NFL has seen in a while, mostly because he has a strong, accurate arm, and he has the ability to run," said junior Alex Bocchi.
Despite the Cowboys' lackluster performance so far, Redskin fans are aware that they won't be taking the rivalry lightly. "This rivalry is so intense because back in the day the Redskins and the Cowboys were really evenly matched teams, and they are in the same division. You know both teams will give it their all because it is such a big rivalry and it is on national T.V.," said junior Nick Poudrier. The rivalry can always be counted on to produce games that are watched on T.V. across the country. "It is a fact that even with a losing season, we will have something to look forward to thanks to this rivalry," said sophomore Connor King.
The rich history of these two franchises is what makes this encounter one of the most exciting in football history. The teams will face off again for the last game of the regular season on December 30 at FedEx Field.
Friends for Life
by Ashlyn Newton and Joe Cirillo
Whether they met here at Northern or have known one another since their own high school days, a number of teachers at Northern have become close friends both in and out of school.
"Ms. Milton and I became friends about seven years ago at a faculty party that we were both invited to. We met each other there, and just ended up getting along really well. We try to get together outside of school two or three times a month, and either go out to eat or go to a friend's house. A lot of what we do revolves around food." –Ms. Carrie Bonalewicz
"It's been 19 years since I first became good friends with Mr. (Clarence) Tennell. He got a job here, and we started coaching together, and it just went from there. We've become really close friends over the years. He introduced me to my wife, and we were each other's best men in both of our weddings. He's always been there for my kids while they were growing up, and we still keep in touch about once a week just to see how everything is going." –Mr. Marshal Kawecki
"When I started working here at the school about ten years ago, I met Ms. (Betty) Farnese and we became friends. We get together outside of school a lot, and sometimes with other staff members, too. We'll go out and get sushi, go to the movies, go shopping, and just have a girl's day. We even went on vacations to Las Vegas and New York together. We also like to support each other's kid and go to their soccer games or dance recitals." –Ms.Carolyn Leadbeter
"I've known Mr. (Marshal) Kawecki for 32 years, because I went to high school with his brother and used to have bible studies at his parent's house. After high school, we went our separate ways, but then I went to a golf tournament with 40 other guys in the Annapolis area that Mr. Kawecki was at. We were both married and divorced, so we had something in common to talk about. Mr. Kawecki knew I was looking for a job in education so he talked to (former principal) Mr. (George) Miller, and I ended up working here, and now we spend a lot of time together. We're both goofy and have the same sense of humor so we get along really well. Even though we're good friends, I really look up to him as a mentor, sometimes, because he's been teaching for a lot longer than me." –Mr. Mickey Norfolk
"My first year here, I met Mr. (Blaise) Canfield, because he was on the marching band staff, and I got to know him that way. We decided to become roommates because my old roommate left for grad school and Mr. Canfield was looking to move out of his old place, so we decided it would be economically better for both of us. We don't car pool to school or anything because our schedules are so different, but we still see each other at our place, and we're good friends." –Mr. Michael Pugliese
"Ms. (Kellie) Ekelund and I have known each other since high school but we became close friends when our kids were in the same elementary school together. We go out to dinner or go shopping, and we eat lunch together two or three times a week. We co–sponsor the Gay Straight Alliance (GSA) together as well. It's great to work with someone that I'm close friends with and have known for so long." –Ms. Justine Novy
Veggie Delight!
By Corinne Fabian and Julianne Ogden
As sophomore Rachel Baker's dad puts a cheeseburger on her plate, she secretly  passes the burger to her older sister. This is a regular routine for Baker. "My parents hate that I'm a vegetarian. They try to force me to eat meat, but I hide that I don't from them. I just give it to my sister," she said. Baker is not the only student at Northern who faces the daily challenges of being a vegetarian.
People become vegetarians for different reasons. "Becoming a vegetarian is easy when you're doing it for the right reasons,"said Baker. She became a vegetarian because she wanted to save animals. 14 year old Freshman Lauren Cutlip is also a vegetarian out of concern for animals. She said, "I've been a vegetarian since I was born because my parents decided to become vegetarians. I like being a vegetarian because it's healthier for me, and I love knowing I'm saving animals." Junior Lauren Cross added, "I just really don't like eating meat."
Students eat both vegetarian and vegan diets. Vegetarians usually avoid meat, but sometimes eat things like fish, milk, eggs, etc. Vegans also don't eat any meat or animal byproducts like animal fats or milk. Forgette said, " I like to call my dieting plant-based instead of vegan because being vegan goes beyond just not eating meat and animal by-products. It's more political. For example, some vegans don't even wear leather boots."
English and yearbook teacher Ms. Adriene Forgette began eating a veggie diet last year when she was chosen to participate in a CNN fitness program with Dr. Sanjay Gupta, culminating in participating in a Triathlon this fall. "My former editor's mom went on a plant-based diet and lost 40 pounds," she said. "Nothing was working, so I decided to try plant-based dieting and lost 10-15 pounds in just four weeks. I felt more energized and felt healthy. Plant based dieting is the only way I saw weight loss."
Vegetarians and vegans are sometimes viewed as different because they don't eat foods like hamburgers and hot dogs. What some people don't know is that vegans and vegetarians create their own versions of these popular foods. For example, veggie burgers (burgers made of smashed vegetables and various other products like nuts and beans formed into a patty shape) are a must for Baker."My favorite vegetarian food is definitely veggie burgers. They're rockin'," she said.
Along with veggie burgers there are other meat-like products that are substitutes. "I really like this companies' food called Morning Star Farms. My friends try them and say they taste just like real meat does," said Cutlip. Forgette discovered new items to put on her plate like Naked Juice, Nature's Path Organic Oatmeal, chia seeds, almond milk and almond butter. "My favorite vegetarian food is Nature's Path Organic oatmeal. I literally bought so many boxes from Wegman's before the hurricane. Not because I thought they'd sell out, just because it is so good," she said.
"I accidently ate meat once. I ate Ramen noodles. I didn't realize there was chicken broth," said sophomore Tori Terrel. Cutlip once accidently ate meat after taking a bite of what she thought was cheese pizza and discovered pepperoni in it. Baker said, "One time my mom made pasta, and she didn't tell me there was meat in i It was her fault, not mine." Usually, if vegeterians end up accidently eat meat it's because another person secretly put it in their food without them knowing. Cross said, "One time my cousin put it in my food but I spit it out after. I've never purposefully eaten meat before. After the first month, it gets really easy to be a vegetarian."
Friends of vegeterians react in all different ways to the diet their friends follow. "Most of my friends think its cool that I'm a vegetarian, but they just don't get it. They always ask me and wonder if they can eat meat in front of me, and its sort of awkward when I go to a friend's house and their parents make a meal with meat in it, and I have to remind them I'm a vegetarian," Cutlip said. " My parents like that I'm a vegetarian because they are both vegeterians also but they make it clear that they arent forcing me to be vegetarian, but they aren't forcing me to eat meat either."
People who eat meat on a daily basis can find it shocking to think someone can really go without eating meat or animal products. "Normally, my friends will get mad at me because they don't think it's healthy to not eat meat and they always say I don't get enough protein to be exercising as much as I do," said Baker. Cross has managed to remain a vegetarian for three years. "Some of my friends think I'm crazy, but some of them even tried to become vegetarians because of me," she said. Becoming a vegetarian or vegan requires commitment and will power. For these students and teacher it has become a normal part of their lives.
Grade A Teachers
by Skylar Mealing
Managing Editor
Junior Shannon Murphy sits in her A.P. Chemistry class struggling to understand the concepts. Although this is one of Murphy's toughest class, she has her favorite teacher, Mr. David Nelson, to guide her. The average student will have more than 50 teachers during their public school career, but only a few may stick out in his or her mind. We asked Northern students about their favorite teachers of the past and present.
Mr. Joshua Gresko, Chorus/Theater teacher
"He's helped me so much vocally and to develop my theater skills. He is always there to talk to. He makes my classes fun, and we are never not having a good time. His class is like a family to me, and we are always learning more about each other."  –Michael Downs, 9
Mrs. Margaret Love, Sunderland Elementary P.E. teacher.
"My favorite teacher ever is my fifth grade gym teacher, Mrs. Love, for many reasons. The fact that her name was Mrs. Love made her sound especially cool to me. Mrs. Love was one of the kindest, most thoughtful teachers I had ever have. I honestly thought she was psychic. She could always read my emotions so easily, and she always cared. I didn't realize at the time, at that age, how out–there my emotions and every other fifth graders emotions were. Sure, she was no psychic. But she was my favorite teacher with a rad last name." –Tori Terrell, 10
Mr. Carl Hautmann, Northern Middle Band/Orchestra teacher
"My favorite teacher would be Mr. Hautmann, the band teacher at Northern Middle School, because he always made me and my class laugh. He would use positive reinforcement most of the time. He would put things in a more basic way, easier to understand. He was very energetic."  –Michael Wadsworth, 10
Ms. Nancy Cohen, Business teacher
"She challenges me to do my best, and she believes in my abilities. I like that she expects me to do great things. She's always there for me when I need her, and I respect her for that. She lets us learn independently, but I know I can always go to her if I need help on my work." –Lauren Buckholtz, 12
Mr. John Rossi, Biology and Physics teacher
"My favorite teacher has to be Mr. Rossi because he is really a great teacher. He makes the hardest things seem so easy. He breaks down each steps of a problem so that they are something simple to remember when it comes to a quiz or test. He also is great to talk to." –Steven Hall, 11
Mrs. Adrienne Forgette, Journalism/Yearbook and English teacher
"She is the nicest teacher I've ever met. She helps out so much. She likes to have fun while she teaches. She's also funny. She has great teaching methods that help you remember the lesson that was being taught. She goes out of her way to help students that need help." –Alex Shannon, 10
Wandering Feet
by Jess Ward and Emily Bennett
From the November 9, 2012 edition of The Patriot Press.
Walking through the entrance to the 2012 Olympic Games on July 28, Mr. Joshua Schneider, physics and engineering teacher, saw the excitement on fans faces as they prepared to cheer on their countries. He was reminded of the night before which he spent at a local pub watching the opening ceremonies with, of course, very excited British sports fans. Two Northern staffers made the trip to London for the Games this summer. Ms. Rachel Chipkin was also in the crowd.
Although the pub scene was a memorable experience for Schneider, the most exciting moment for him came on the second day of the games: "Everyone was excited and had their Olympic tickets. Watching those teams go out and being surrounded by people going nuts for their country, you realize the Olympic games have begun," he said.
Schneider had been overseas since June 19 traveling all over England.  He is not a first time traveler either; Schneider took his first trip out of the country to study at the University of Cambridge in 1997. It wasn't until 2006, when he traveled around the United States and Canada by train, that Schneider really fell in love with the hobby. Schneider has visited 12 countries.  Schneider's trips to England, however, are always his favorite, "I seem to be addicted to that country."
As a frequent traveller, Schneider usually goes for the cheapest and easiest ways of getting around. "I always stay at hotels and maybe the occasional bed and breakfast, just to change it up," he said.  For the duration of the games however, Schneider stayed with friend Mr. Alom Shaha, a fellow physics teacher that Schneider had met during his visit to a school in England. "The Olympics took place in venues all over London, but my house is about eight miles from the main Olympic Stadium," said Shaha. When it came to the Olympics though, extra planning was required. "I plotted about a year and a half before," Schneider said. He went through a long process to obtain Olympic tickets.
The process began at "dream land," when Schneider selected the events he wanted to see. Then choices became randomized, which is why Schneider landed a ticket to see Olympic handball. After that, leftover tickets were sold on a first come, first served basis. In the end, Schneider got tickets to women's indoor volleyball (his favorite event), men's indoor volleyball, women's handball, men's boxing, and men's basketball.  Unfortunately, Schneider was not able to see any U.S. teams compete.
Chipkin had slightly better luck. Although she was only at the Olympic Games for three days, she was able to catch synchronized swimming, volleyball, basketball, rhythmic gymnastics, wrestling, and swimming (the latter three including U.S. athletes). "My favorite event was rhythmic gymnastics," she said.
Like Schneider, Chipkin also arrived overseas prior to the games.  She and her husband  David were in Scotland for the four weeks before the event. She is also not a newbie to travel. "My first trip was when I was in tenth grade, and I went to France," said Chipkin.  After visiting 15 countries outside of the U.S., Chipkin's top two places are Scotland and Morocco. "I think it is interesting to see other cultures and how people live," she said.
After arriving by plane and traveling by rental car and train, Chipkin and her husband went for more comfort and stayed at the Jury's Inn, a hotel in London.
Chipkin's greatest joy on her trip came from one of our country's most popular sports, basketball, when Spain defeated Russia. "The most exciting moment was the basketball because it was the semi-finals, and we knew whoever won would play against the U.S.," she said. Spain went on to lose to U.S. with a final score of 107-100.
Both travelers say the London Olympic Games opened their eyes. You see, "how big the Olympics are," said Chipkin.
 The real paranormal activity
by Jennifer Stacy Linkins
Editor-in-Chief
From the November 9, 2012 edition of The Patriot Press.
Films like Paranormal Activity that depict ghosts walking among us have become a huge phenomenon. Although most of us will never experience the spirits shown in these movies, the frighteningly real tapes of them are hard to shrug off. A few students and teachers at NHS have been through hauntings that most of us could never imagine… and have lived to tell the tale.
"My husband and I were sleeping in my bedroom at my parents' house.  We were both asleep when I turned over and saw a dark figure that looked like a man in a trench coat in the corner. I tapped my husband to wmake sure he was still there. So then I opened the door and motioned for it to leave, and I climbed back in bed.  When I asked my mom and sister about it, they said that they had seen the ghost before." –Ms. Sara Duckett
"I was at my friend's beach house one summer by myself, and I was alone that night upstairs. The upstairs was an open area with three beds. I was in the first bed by the stairs, and I was just getting ready to turn out the light by my bed. I rolled on my side and my back was to the steps. All of a sudden, it sounds like someone is coming up the steps.  I'm frozen. Then a man's voice says, 'Go to sleep.  Go to sleep now.' I turned on the light, ran downstairs, and turned on the TV and sat on the couch all night." –Ms. Linda Curry
"I had a nightly ritual of tucking my daughter, Bailey, into bed every night and turning her music box on, which sat at the top of her dresser. One night, I did just this, and then I went downstairs. A few minutes later, my daughter came running down the stairs screaming. We hurried upstairs and her music box was still playing but it had disappeared. We ended up finding it sitting upright under her bed.  I tried several times to recreate the way it could've fallen down and landed under her bed, but I never could."
–Ms. Sandra Loveless
"When I was working at Old Field Inn in Prince Frederick, and I was closing up because I was working and it was late, I saw somebody walking up the stairs, but it wasn't walking––it was floating.  I turned to the other waiter and he said that he had seen it. Every New Year's Eve the top of the liquor bottles would fly off without touching them and the chandelier would move." –Ms. Wendi Ring
"One day, when I was using the restroom, the shower curtain fell and the lights turned off. I rushed to turn on the lights and when I turned them on, the toilet flushed. At first, I thought it was a storm or lightning. I was just in shock and so scared. Ever since then, I leave the door open whenever I use the bathroom or take a shower." –Senior Alex Montoya
"When I was little, I lived in Yokosuka, Japan. We lived off of the military base, and across the street from my house was a big mountain and a giant staircase. At the top was a Japanese temple and these weird God statues with little piled up stones representing babies that had died in the town. Next to that was a cemetery and inside there were catacombs enclosed by gates. One day, my family was hiking up the mountain and my little brother was on my dad's back. There was a big festival going on that day, and we were walking around up there, when one of those spiritual rocks had fallen over. So I picked it up and as soon as I did the gate of one of the catacombs swung open and a weird wind blew through and it sounded like a baby crying." –Ms. Robin Sparks
About a month ago, freshman Maggie Luke, sophomore Bri Zynch, and senior Olivia Reilly experimented with ghosts using a Ouija board (a spirit board marked with letters, numbers, and common phrases, which some believe can indicate what a ghost or spirit wants to say).  "All of us did not believe in ghosts," said Zynch.  "We bought the board from Toys–R–Us then went home, lit candles, and turned off the lights," said Luke.  "We asked the board really personal questions and the board pieces moved and answered the questions correctly," said Reilly. Reilly asked the board, 'What does my dad call me that no one else knows about?' and the letter pieces flew around and spelled out the correct answer: "Wiz."
Dress to Express
by Grant Whittington
Managing Editor
From the November 9, 2012 edition of The Patriot Press.
Hoping to expand his wardrobe, senior Jacob Beavers sifts through the interesting clothes in a consignment shop, but nothing catches his eye. Suddenly, he spots a pair of tan short shorts near the end of the rack and decides to buy them. These short shorts are just a small facet of what makes Beavers' style so unique. "I always find cheap clothes that are cozy and look good. I never dress to impress anyone. I just think my style looks good," he said.
Beavers' distinctive style includes his clay-colored jeans, his wide array of tops including jeans jackets and Hawaiian shirts, and his blonde-dyed hair. "It's sort of like an art," he said. "I like to express myself." Beavers is one of a handful of Northern students who represent themselves through unusual clothing and a unique fashion sense.
Senior Whitney Hawkins feels that dressing nice and professional promotes a positive classroom attitude and ambition for achievement. She owns classy outfits and blazers to keep herself looking fashionable while remaining focused on her schoolwork. "If you come to school dressed lazy, then you won't feel like doing any work at all," she said. Hawkins sets herself apart from others with her diverse style. "I care about what I wear. I try to look different than others and keep a really distinct look. I never want to be generic," she said.
Alternative styles are becoming more popular. Sophomore twins Cassandra and Missie Mayes have bought into the alternative look. The Mayes' wear zebra-striped pants, floral cutoff blouses, colorful makeup and old fashioned, but now trendy, hair styles. "I don't want to look like everybody else. I dress to be comfy, but my sister (Missie) and I want to be unexpected and outrageous," said Cassandra. Their styles are becoming more and more popular as the alternative look catches on.
Popular fashions at Northern include trends like wearing Nike, Polo by Ralph Lauren, or Ray Ban sunglasses. Students dressing in popular fashions have always been associated with an attempt to fit in and gain acknowledgment from peers. Not all students buy into the mainstream fashion.
Junior Jeffrey Taylor's style includes olive drab army pants, exotic colored shirts and jerseys, and accessories like glasses and gold chains and earrings. "Most days, I don't even match, but I dress that way for me," he said. "I just wake up and throw on whatever I like." Uncommon accessories can also help students express themselves. Instead of wearing a popular G-Shock watch, senior Ryan Bozman sports an old-fashioned pocket watch with his Dickies pants. "I wear a pocket watch because it defines me as classy. Not many people wear one, so it sets me apart," he said.
"I'd rather be different than dress like everybody else," said junior Evan Eason. Eason, among others, dresses to be stylish, comfortable, and just a little different.
Trick or Treat
by Jody Figueiras and Samantha Plant
From the November 9, 2012 edition of The Patriot Press.
Every fall, trick–or–treaters get ready for the one night when they can dress up in costumes and be someone they aren't.  Ever had a weird Halloween? The best Halloween stories aren't about ghouls and ghosts, they're about being so scared you have an accident in your costume, or that Halloween costume you really wanted falling apart as soon as you start trick or treating. Students around Northern share their weird and memorable Halloween experiences.
"As me and my sister were walking down a scary driveway, my neighbor jumped out of a fake grave that he dug.  It scared us so bad my sister kicked him in the face, and I jumped over a bush." –Lindsey Ferguson, 9
"One Halloween when I was little, my brother Ryan and I went to a pumpkin patch, and he dropped a pumpkin on my head… Then he posed next to me, smiling, with our mom to take a picture." –Shaylah Sullivan, 11
"When I was little, I would go to my grandfather's house on Halloween night. We would walk around his big neighborhood to go trick–or–treating. One time  we rang his neighbor's doorbell and the whole family came to the door covered in blood and dressed up as Scream (characters)." –Christian Olson, 11
"I was sitting in my house waiting for the next trick–or–treater, when the doorbell rang.  I opened the door to a black man dressed up like he was from the 70's.  He had an afro, medallion, and a cigar.  I didn't know who it was but he knew me.  After freaking out, I found out it was just my neighbor painted brown." –Michael Perise, 11
"When I was little, I saw three older kids setting up a dummy at my neighbor's house.  The dummy was dressed up as a little kid wearing a skeleton mask and a robe around him. The three kids put a bag around his hands so he could get candy that they could eat for themselves.  The dummy looked real so I thought he was actually a little kid.  It wasn't until the next day I found out it was a dummy.  My brothers had to explain the whole thing to me." –Joseph Almony, 9
"When I was little, my dad used to hide in the ditch on Halloween to scare the kids who walked up to my driveway.  One time, these little kids were walking by and he popped up and scared them.  They got so scared they started crying.  The parents of those kids got mad and made my dad apologize.  It was a weird situation having a bunch of crying kids in my driveway." –Vallen King, 10
"I was walking in Cross Point with my friends one Halloween in middle school. We weren't trick-or-treating but we were just walking around. The girl who liked me then popped out of nowhere and surprised me. I didn't like her back, but she was persistent in giving me hugs all night and walking with her. I tried saying no but she didn't get it.  I finally got away from her right as the night was ending…" –Brandon Snow, 10
"I was trick-or-treating with Carson Grogard and Nate Stone. Somehow, I got lost and separated from them. I ended up walking down a scary boardwalk into Nate's neighborhood. I thought they were with me the whole time but they ended up being at a Chinese restaurant near the waterpark." –Quaid Irving, 12
"When I was seven, my friends and I were trick-or-treating in Richfield Station. We went to the townhouse section and to an old lady's house that was passing out vegetables. When I went up to her house, she gave me a full size carrot like it was normal. I was really disappointed because all I wanted was candy. Since then, every time I go back to her house she has given me candy." –Shane Donaldson, 10
Five fright night films
by Julianne Ogden and Kayla Emerson
From the November 9, 2012 edition of The Patriot Press.
The Exorcist, 1978
The Exorcist, set the  standard for  horror films being produced today. The plot begins by introducing a Catholic priest who encounters strange omens and discovers a demonic statue while on an archaeological dig in Iraq. Back in Washington, D.C., an actress notices precarious fluctuations in the behavior and appearance of her young daughter, Regan. Meanwhile, a young priest at nearby Georgetown University begins to question his faith while dealing with his mother's terminal illness.
When Regan's mother seeks help for her daughter, these three people begin experiencing strange incidents. No psychiatrist or doctor can treat the girl's illness, so she must undergo an exorcism. Audiences will be on the edge of their seats throughout this movie, supposedly based on a true story in the D.C. area, when it takes unexpected turns and suspense builds. The Exorcist earns its reputation as a true thriller from back in the day when wearing tie-dye was cool.
 A Nightmare on Elm Street, 1984
Years after being burned alive by a mob of angry parents, child murderer Freddy Krueger returns to haunt the dreams, and waking lives, of local teenagers in this classic. As the teens of a small town begin to drop dead, the main characters, Nancy and Glen, develop a plan to lure Freddy out of their nightmares and into the real world in order to kill him once and for all. If you have never seen the original A Nightmare on Elm Street, you're missing out. The sequel's just don't do justice to the terrifying character of the 1984 Freddy Krueger.
 The Crazies, 2010
Have you ever wondered what would happen if everyone in a small town area, like, say, Calvert County, was driven mad by contaminated drinking water? In The Crazies, residents of the town Ogden Marsh, Iowa, turn into violent psychopaths when their water supply gets polluted with a toxin found at the site of a plane crash in a local bog. A sheriff, his wife, and two other unaffected townspeople unite to fight for survival after themilitary seals the town off from the rest of society in an attempt to stop the virus from spreading. The Crazies is a unique film that will hold your attention from beginning to end. The terror and absurdity of the plot will keep you entertained.
 Paranormal Activity, 2007
Twenty-one days, that's all the time it took to film Paranormal Activity.  Made as an independent film, the instant runaway hit will make you shiver and shake. The film begins when a young couple (Katie and Micha) move into their first house together. Once they move in, strange events happen in the middle of the night ranging from footprints appearing to a demon crawling into the covers of their bed. Micha's surveillance cameras capture all the strange events in this "found footage" thriller. The movie has several endings, each one tragic, and all make you beg to know more. This picture will make your skin crawl as you wonder what lies in your own house.
 The Haunting in Connecticut, 2009
Another film based on supposedly true events, The Haunting in Connecticut tells the gruesome story of a family's experience in a haunted house. Shortly after moving into their new house, the Campbell family discovers that their charming Victorian was once a funeral parlor and conceals a disturbing past. The son of the previous owner, who served as a spiritual communicator with the dead, returns to the house to unleash horror upon the naïve family.
If you like the creepy feeling you get watching realistic terrors on screen, then The Haunting in Connecticut''s realistic plot will add to your fear. Similar to the intensity of The Exorcist, but with a more modern scenario, the movie will linger in your mind, leaving you with a lasting impression that may or may not affect whether you ever sleep again.
 Shopping on a budget
by Hannah Magallanes and Tara Truitt
From the November 9, 2012 edition of The Patriot Press.
As senior Madison Marinaccio searches through the racks of clothes at OZ consignments, she is excited to
find an new outfit that is trendy and affordable. Thrifting is becoming a trend among students allowing buyers to find cool clothes for less. "I buy cute things for a little bit of money. It makes me excited when I find something so cheap that's cute and would normally be expensive," said Marinaccio.
Thrift and consignment shops sell gently used and new clothing from popular stores like Forever 21 and American Eagle that are high quality at discounted prices. "When I went thrifting with my friends, we went to Goodwill, and I found my Homecoming dress that was super cute from Forever 21 and only seven dollars," said senior Peyton Colgan.
Students may not think that thrift stores and consignment shops have the clothes they are looking for, but in reality they carry all types of outfits from popular stores. They often have hidden treasures that are very valuable that cannot be found in ordinary stores. "I enjoy thrifting because you never know what you're going to find. It's always a new adventure. When I went, I found an imported hand-painted China porcelain teacup for only five dollars," said photography teacher Mrs. Laura Rozengota.
Thrift stores aren't limited to just clothes for teens, but for people of all ages. "One time, I went to a thrift store and bought a grandpa sweater, t-shirts, and a pair of jeans for only ten dollars," stated senior Jacob Beavers, "It was great." Students who shop at the mall buy clothing and accessories at full price when thrift stores are selling similar styles at discounted prices. "I found a pair of Toms last month for $2.75 at a thrift store in Annapolis. I was so excited," said junior Rebecca Schneider.
The Help Association runs a thrift shop on Mount Harmony Road in Owings. They make grants to charitable organizations throughout our community, including area food banks, senior centers, fire departments, as well as various groups at NHS (including The Patriot Press). "We've had a lot of students shopping here," said Help Center volunteer Ms. Rosalee McGovern. "We have jeans at only $3, and we get a lot of designeer clothes." A number of students from NHS volunteer at the store. Since many of the staff are retired, McGovern noted that they appreciate younger people's help with the heavy lifting.
Thrifting also offers an affordable way to hang out with friends without breaking the bank. "I mostly go thrifting with my friends when we hang out because I don't have to spend a lot of money on cute clothes," said Schneider. There are a wide variety of thrift stores throughout Southern Maryland that have good finds. "I like going to the Oz consignments in Annapolis and Consignments by Judi (Coyle) in Dunkirk, because they always have name brand clothing that is slightly used," said Marinaccio.
Thrift stores and consignment shops attract more and more students because of students' tighter budgets. "These stores have become more popular now because of the economy. Once people realize that these clothes are from peoples' closets,and that they still have a tag on them or are name brand they are more willing to buy," said Consignments by Judi Coyle owner Mrs.Judi Coyle.
On the other side of thrifting are those who want to give and donate to the community. "Helping the community has always been taught in my house, but knowing when I donate my clothes to thrift stores, I'm helping people," said sophomore Brianna O'Daniel. "I think shopping at thrift stores is a way of giving back because I donate trash bags full of clothes, and when I buy things from the store I know my money is going to charity," said Beavers. Thrifting is a trend that is convenient for both students' and parents' wallets.
 Life on the bay
by Joey Cirillo
Fact Checker
From the November 9, 2012 edition of The Patriot Press.
For some, a day out on the water is a rare and exciting experience, but for teachers Mr. Kevin Richter and Ms. Melissa Trost, boating is as common as finding sand on a beach. Boating has been a part of their entire lives and neither teacher has any intention of retiring from the docks.
For Richter, an art and photography teacher, boating is more than just a weekend activity. He grew up boating and bought his first boat in his late teens. This increased his love of the water and eventually led to him spending his twenties sailing the Caribbean.
Moving back to Maryland, Richter bought another boat in 2008 which he still has today. About a year ago, Richter made the decision to move onto his boat full time and live on the water. "There's good and bad that goes with living on a boat," Richter said. "It sounds cool, but it can be a rough lifestyle at times." He says the winters can become extremely cold due to the lack of insulation, and increasingly hot in the summer. There is also limited space, which can prove frustrating at times. It isn't all bad however, "It's nice waking up in the morning, opening the hatch, and seeing the sun rise on the water or the seagulls flying through the sky."
Like Richter, Trost has been sailing her entire life. Her father and uncle sparked her interest in boating. "My family and I grew up on Lake Erie, so we would sail to Canada most summers," she said.  Trost is an active competitor and holds several titles including Erie Yacht's 2011 Woman of the Year, and an impressive second place title in the Annapolis Summer Series.
Along with competing, Trost is also a sailing coach. Her experience sailing has allowed her to coach for the Severn Sailing Association. She also coached for three years outside of New York in Long Island. "I sail out of Annapolis on Wednesdays and weekends and from the Severn Sailing Association on Tuesday." These opportunities have allowed her to meet and sail with a variety of new people every weekend.
Sailing has become second nature to these teachers. They picked up the hobby during childhood and have turned it into a rewarding life experience.
College Checklist
by Claire Gautrois
Entertainment Editor
From the November 9, 2012 edition of The Patriot Press.
 Seniors: 
Visit Guidance often: Sometimes it takes more than one person to make a good decision, so talk to your guidance counselor about the colleges you are considering.
Finish scholarships:  Getting a scholarship will help pay for tuition and will result in a less expensive education, so pull out that long list of scholarships from last year and start working on the applications for the ones you haven't submitted yet.
Keep your grades up:  Don't slack off during senior year simply because you think that colleges only look at grades from junior year.  Most colleges view your senior year grades as a representation of how much you will slack off when you think no one is looking.
College applications: There are the obvious things that need to go on a college application, like SAT/ACT scores, your GPA, and your transcript. Remember to include the things that you have been participating in for a long period of time, whether they are school related activities or not. Senior English teacher Ms. Debbie Wilson said, "If you go all the way through something like Boy Scouts then put that on your application. Don't be afraid to toot your own horn."
College essays:  Essays are often a deciding factor in the college admissions process. "You need to present yourself in a way that makes them [college officials] want to meet you," said Wilson. The college essay gives students a chance to show off their personal qualities. "It [the essay] shows critical thinking skills and writing ability," said Ms. Stephanie Milton, senior English teacher. Students show colleges what type of writer they are and how much time and effort they are willing to apply through these essays. "It's the chance to show the college a side of you and that you're so much more than just your SAT scores or extracurricular activities," said Wilson.
 Juniors: 
Take the SAT: "Take it this year, don't wait 'till next year," said guidance counselor Ms. Ellen Oldham. Students can take the test multiple times and their best scores in each section are sent to colleges.
College Visits: Start looking for times when you can visit schools. Colleges offer tours especially for juniors.  "Whenever you can go, go," said guidance counselor Mr. Richard Wolcott. Having been to the colleges you are interested in will make it easier to make a decision next year.
Scholarships: Research scholarship information to find those that apply to you. There is a scholarship board in guidance with a list of available scholarships. It is updated every month. Websites you can use include scholarships.com and fastweb.com. Scholarship information is also provided in Northern High School's weekly electronic newsletter, "The Blast."  For an easy, effective way to apply for scholarships, submit the Local Scholarship Application at somdcan.org and it will submit your information to scholarships in the area that apply to you.
Essay Writing Tips 
1)   Students need to find a way to stand out among thousands of essays. "One event is better than one period of time. The more students write about something small, the more revealing it will be about their character," said 11th grade A.P. English teacher, Ms. Cathy Bayne.
2)  Many students misunderstand the purpose of the essay. Milton said, "It may be tempting to write about achievements or what students think colleges want to hear, but students should be genuine and get their true selves to sparkle."
3)   Be yourself and write the way you would normally. "Don't try to use big words. They see right through that," said Wilson. It's important to be original. Not only does it show you're a good writer, it also shows your thinking skills. "Avoid clichés like the plague," said Bayne.