The small bakeshop in the Beach serves fresh treats with a cozy vibe
by Jordan Carbo
Entertainment Editor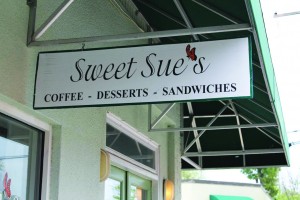 There's a sense of community in the small town of North Beach. With a public beach, a half-mile long boardwalk, restaurants, farmer's markets, and ice cream parlors, there's an atmosphere of welcomeness. Sweet Sue's Bake Shop and Coffee Bar on the corner of 7th Street and Bay Avenue adds to that vibe.
"It's a very cute little cafe and it's pretty reasonable with it's pricing," said senior Taylor Heiston. "I feel like you just want to sit down and eat there because they have little tables outside that you can sit at and just look out and see the streets and what's going on around the beach." Breakfast sandwiches cost around $5 and lunch sandwiches are priced in the $7 to $8 range with sweets and specialty coffees generally under $6.
Sweet Sue's is a small, privately owned bakery that sells handmade breakfast sandwiches, soups, muffins and other award-winning baked goods less than a block from the bay for an easy-going treat. They also cater, offering specialty cakes, sandwich and dessert platters and more. All sweets are baked daily in the store and the espresso is freshly ground, giving the coffee drinks a more authentic taste. Considering that everything is made by hand in full view of the customers, the satisfaction is even more rewarding. "We strive to not only satisfy our customers, but to make their days a little brighter, and I really love that," said senior and Sweet Sue's employee Emily Hall.
People who live in North Beach and have the convenience of being close to the cafe are more likely to be regular customers. "A lot of our regulars live in walking distance, work around town, or live in the beach, and it's nice that I live close, only about a five minute drive," said Hall. For students living in the Dunkirk or Owings areas, the drive is only about 10-20 minutes depending on where you start from, which is worth it for their famous eclairs.
The town in is a popular tourist attraction in the summertime, bringing business from D.C. and Virginia to enjoy to beach and the Farmer's Market on Fridays, when Sweet Sue's stays open until 9 p.m. "I also love the fall and wintertime when things start to slow down," said Hall. "The smell of holiday baked goods gives the shop a nice homey feel."
The view from the location adds to the warm and welcoming feeling you get from the employees and their fresh baked goods.  With good prices and a welcoming atmosphere, this small town cafe is highly recommended. Grade: A