Past Most Likely to Succeed winners talk about where they are now.
by Madison Griffith and Serena Bronk
Ever wondered whether seniors who won the "most likely to succeed" superlative over the years actually succeeded? A few former most likely to succeed alumni shared where they are now and what they think becoming successful really means.
1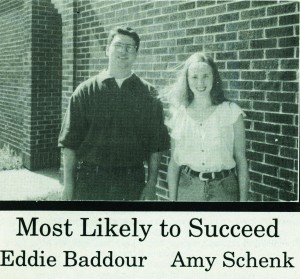 994 alumna  Amy Schenk Bevard, graduated in the top five in her class, participated in the National Honor Society and Key Club, tutored some of her peers, and volunteered a lot during high school. She won the Class of 1994 most likely to succeed superlative with Eddie Baddour. "I'd like to think my peers recognized my work ethic as a student and thought it would carry me far, whatever I did. I took my academics seriously but also was involved in many activities," said Bevard. She currently stays at her home to drive her four kids to and from soccer, dance, library, church, and American Heritage Girls. "I do work one day a week at our church's Mom's Morning Out program and am responsible for payroll and bookkeeping for my Dad's business," she said.
Bevard has an undergraduate degree in environmental planning and a master's degree in post-secondary education. "I've worked at a local college and as an ESL teacher, tutor, and home-hospital teacher," she said. She owned her own home daycare for a couple of years. Bevard hasn't moved out of the county. "Calvert County has been a great place to raise our kids. I'm pretty sure most of the people I graduated with who stated they wanted to leave Calvert County live here, too," she said.
Alumna Jessica "Hyder" Baumann graduated 15 years ago and went to University of Maryland for her degree in civil engineering and then received her license as a professional engineer. She lives on the Eastern Shore with her husband, Fred, and their three dogs. She currently works as a project manager designing and building communities for military families at both Fort Meade and Aberdeen Proving Grounds. "It's extremely rewarding to be able to give back to the service members and their families for the sacrifices they make for us and our country," she said.
While Baumann was in high school she was in Class Council serving as the Vice President, was editor in chief of the yearbook, was in National Honor Society, Quill and Scroll Journalism Honor Society, President and Secretary of the Key Club, and graduated in the top 5% of her class. "When I was nominated for the superlative, I was honored to be recognized by my fellow classmates for the superlative," she said.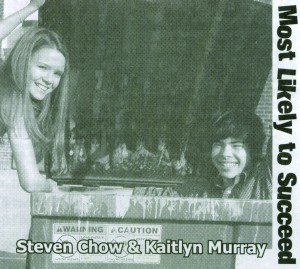 2008 alumna Kaitlyn Murray also won most likely to succeed, but unlike Bevard and Baumann, she moved far from Calvert County. Murray has been living in Anchorage, Alaska for the last year and a half. Before Alaska, she lived in Houston, Texas. "I am an environmental and regulatory engineer at ExxonMobil, which means that I assist facilities with complying with environmental regulations with a focus on air emissions and wildlife," she said. "One great thing about my job is the opportunity to travel internationally and domestically. In the last three years, I've been to Indonesia, Bermuda, all over Canada, New Orleans, Seattle and lots of other places."
Some of the winners were surprised that they won the superlative. "I was excited when I was voted Most Likely to Succeed. My class at Northern had a lot of smart and talented people, so I felt that it was a big honor," said Murray. In high school, she was involved in cross country, track, lacrosse, class council and SGA. She also kept a high GPA and was one of the two editors in chief for The Patriot Press.
2009 alumna Jasmine Adams moved her career a little north to an apartment in Arlington, Virginia. After being the President of the National Honor Society her senior year, editor in chief of The Patriot Press, being involved with SGA within the school, county and state, along with maintaining great grades leading to an early acceptance to Georgetown University, it wasn't much of a surprise for Adams to win the superlative.
"Currently, I work full time as a service desk technician and technical writer for the National Cooperative Bank. I am also a part-time 2L student at Georgetown University Law Center," Adams said. She works during the day and attends school at night. "I absolutely love both worlds and hope to bridge them together as I move forward in my career path."
"I was quite surprised when I won most likely to succeed," said 1996 alumni Jermaine Carroll. "We had a number of people that I considered to be more worthy of the superlative. But naturally, I was very flattered."  He moved west to Denver, Colorado. "I am currently a licensed attorney, and I serve as chief legal counsel and part owner of a small, privately held company that does international procurement and logistics transactions," he said.
During high school, Carroll was the senior class president, company commander of NHS' NJROTC unit, a member of the National Honor Society, and ran Cross Country. Carroll graduated from the U.S. Military Academy at West Point and then joined the Army. After that, he continued at Brigham Young University to receive his law degree (JD) and Masters of Business Administration (MBA). "The most important part of what I do is to be the best husband I can be to my wife of almost 15 years. Secondly, I'm a father to six wonderful children. Those are my priorities," said Carroll.
2010 alumna Mallory Clites, who also won the superlative, now lives in Philidelphia working toward her doctorate in Materials Science and Engineering at Drexel University. She completed her undergraduate degree in Chemical and Biomelecular Engineering at the University of Maryland. Clites was a Gold Award Girl Scout, captain of the field hockey team, a member of the National Honor Society and was managing editor of The Patriot Press.
Clites feels that as a graduate student, the key to success is dedication. "Keep working at things until finally they click into place. Pure hard work pays off more in the long run than anything else," she said.
"I think success looks different to everyone and there is no one key to make it through the several doors that can lead to success," said Adams. Even if you didn't win most likely to succeed, it doesn't mean that you won't be successful. Murray said, "Embrace every situation as an opportunity to learn and grow and don't shy away from potential opportunities because you feel uncomfortable or unsure of yourself. It's those situations where you can learn the most and push yourself."